As it is my birthday, I thought it called for a personal blog instead of my usual observations and thoughts on indie publishing!
One year older, but not the least bit smarter. I'm just as weird and messed up as I was yesterday. Now I'm just covered in blood as well…
That sentence will actually sound less scary after you hear how I spent my day!
–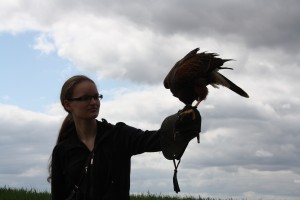 Most people celebrate their birthdays by going out with friends or family… I decided to spend my day together with a falconer and a couple of his Harris Hawks.
As some of you might know, aside from being a writer, I have a dream of one day becoming a falconer and get to work with birds of prey. I have always had a great fascination for those beautiful birds, and it's a wonder all my books aren't filled with falcons(I should totally give Selissa a falcon…).
There's only a few practicing falconers in Denmark, but luckily I live relatively close to one who offers so called 'Hawk Walks' where you get to take out one of his Harris Hawks after having been taught the basics of controlling a falconry bird. It's a fantastic experience, getting to feel how it is to work together with such an amazing hunter.  It's definitely addictive.
This was the third time I visited this falconer(I have a nice scar as a reminder of the only time I tried to walk with another falconer's bird) and the first two times I got to fly the bird he usually used for these 'walks', called Odin. Since Odin is used to fly to strangers, he is of course very easy to handle and pretty trustful, but apparently he was on 'vacation'. What a hawk does on vacation, I will never know…
So it was a huge boost of confidence when the falconer let me try handling one of his hunting hawks, Frigg.
The thing about Harris Hawks(And most other birds of prey) is that the males have a milder temper and are easier to handle. The females are not only almost twice as big, they are also less trustful and more eager to kill. And Frigg is a female Harris Hawk, and not only that, a pretty young one in terms of training.
Compared to Odin, this was like working with a completely wild bird. Normally, I'm pretty calm while handling these birds, but usually I have always been able to read their intents. I admit to being kind of nervous when Frigg landed on my glove and didn't immediately take off again, but instead sat and studied me intensely. Its eyes were wild and unreadable, not calm like the birds I have tried holding before and in that moment I was not quite sure if it wanted to rip into my face instead of simply taking off from my hand. And the talons on this bird were twice as big as the ones on the male hawks, so that didn't make me feel much more secure…
But despite my nervousness, it was a very special experience to hold this creature. Everyone can hold a bird that just sit calmly on your hand, another thing is to hold one that, though trained, still very wild in its behavior.
–
Because of Frigg's more stubborn and untrustworthy manner, we only went for a short walk with her. For the main trip, he bought out another male Harris Hawk, called Bob.
Yep, that's right. Odin, Frigg… Bob.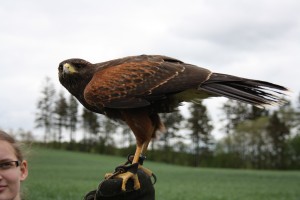 Anyway, with Bob, who was much calmer and mild-tempered(Not to mention the fact that his talons weren't long enough to cut all the way through my hand), I was back in my comfort zone and I found him to be a very pleasant partner as we walked through the fields with the falconer.
Now, we're coming to the part where my hands are covered in blood and chicken feathers. I still remember the first time I had to reach into a falconer back, knowing that it was filled with chopped-up chickens. Surprisingly, you get used to it very fast. So fast, in fact, that you forget what has been underneath your nails before you bite them later… Yuck.
–
After that, the walk went relatively unevenful and I didn't get any new scars to my collection. And I found out that it's very difficult to drink a juice box with a falconer glove on one hand and the other smeared in blood and feathers. Not to mention an impatient hawk who was annoyed at not getting a juice box as well…
I did get to say hallo to a couple of the falconer's owls afterwards, though, including a 4 weeks old Eagle Owl who was still covered in silky down. It was so fluffy it was adorable!
I also got the good news that his Burrowing Owls have laid eggs, which means there might soon be a little birdie for me!
–
Pictures from the trip: