I'm slowly returning to the world of the living after this weekend's convention. Running around, sleeping too little and forgetting to eat takes a toll on body and mind. Totally worth it, though.
This SVScon I could be found in Artist Alley or hanging out at Firebase Hydra, the costume exhibition and workshop corner led by the amazing Roses and Boltshells, who I'm so happy to have gotten to know over the last few months. They were joined by a long row of awesome cosplayers, among others Skymone Cosplay, Obsessive Creative Disorder and Duros's Armory.
As usual, the weekend was pretty insane. Not just because it was busy, but because it was insane. 
I can now say I have chest-bumped a Warhammer 40K Space Marine. Or rather headbutted, considering that's the part of MY body that came into contact with his armor. I have no idea how those guys get through doors…
I did manage to get in my partly-finished costume as well. Due to lack of time, I didn't get to finish my wig, but my staff was great for hitting people, so I still consider it a success!
To the curious, I was dressing up as Morrigan from the awesome game Dragon Age: Origins. With me in the picture is Roses from Roses and Boltshells as Anders from Dragon Age 2.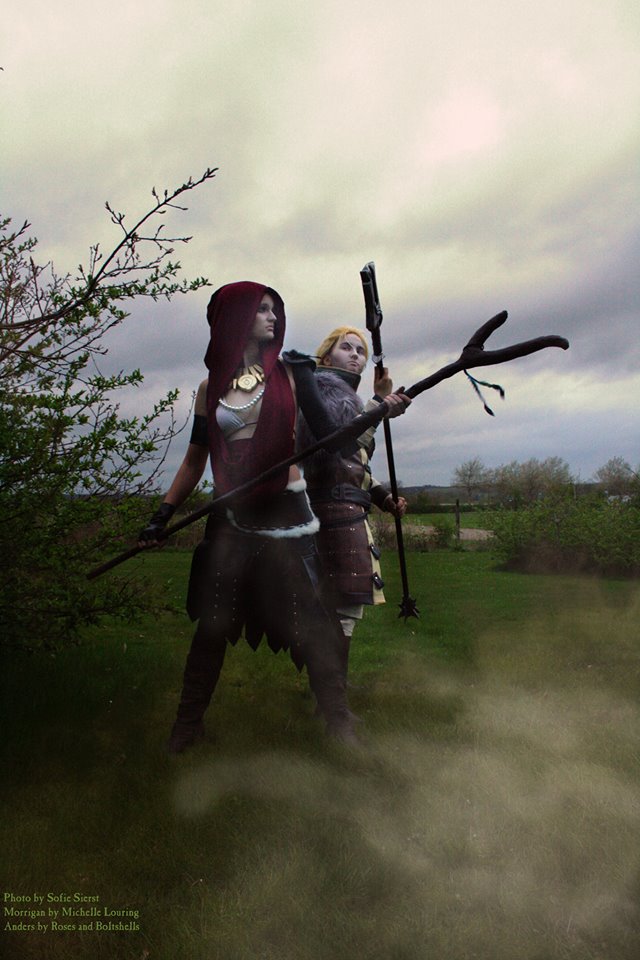 Photo by Sofie Sierst.
Editing by Roses and Boltshells.