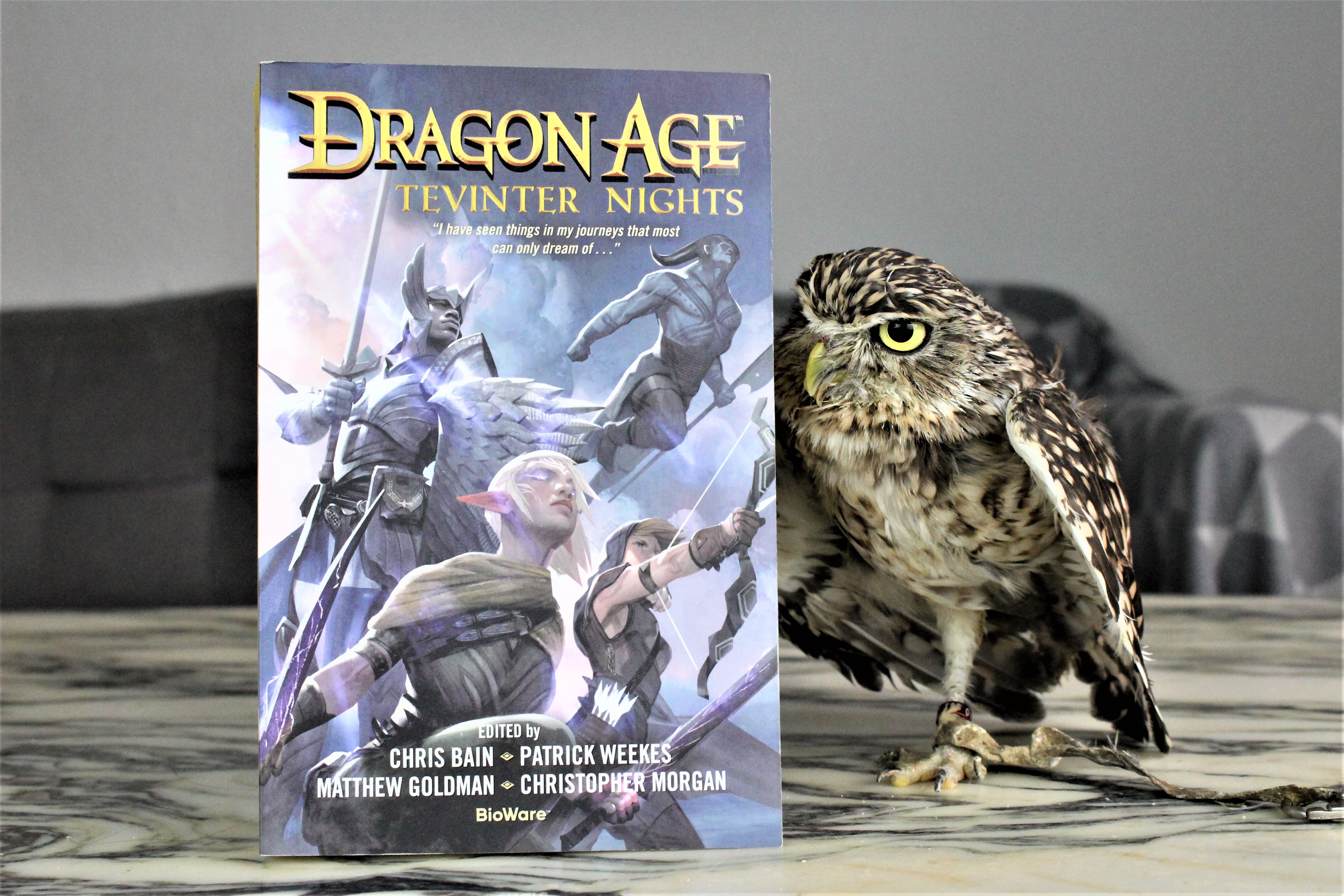 Let's get geeky with Dragon Age: Tevinter Nights!
This is a collection of short stories from the Dragon Age universe by several different authors. So many, in fact, that I'll just list them at the end of the post, instead of at the top like usual.
As regular readers will know, I'm obsessed with the Dragon Age games and the lore behind them. So I had to read the antrology that's clearly meant to create hype for the upcoming fourth Dragon Age game.
And guess what? I'm hyped.
The stories turned out to be much darker than I expected, but that is in no way a bad thing. There's also some funny moments between all the horror, and I think Lessef from the story An Old Crow's Old Tricks might be my new favorite character of all time. A tiny old lady, who's a scary and professional assassin one moment, and the next jumps onto her servant's shoulders and yells "Onward, to cookies!"
Definitely what I needed, after the nightmares The Horror of Hormak gave me…
–
Tevinter Nights include the following stories:
Three Trees to Midnight by Patrick Weekes
Down Among the Dead Men by Sylvia Feketekuty
The Horror of Hormak by John Epler
Callback by Lukas Kristjanson
Luck in the Gardens by Sylvia Feketekuty
Hunger by Brianne Battye
Murder by Death Mages by Caitlin Sullivan Kelly
The Streets of Minrathous by Brianne Battye
The Wigmaker by Courtney Woods
Genitivi Dies in the End by Lukas Kristjanson
Herold Had the Plan by Ryan Cormier
An Old Crow's Old Tricks by Arone Le Bray
Eight Little Talons by Courtney Woods
Half Up Front by John Epler
Dread Wolf Take You by Patrick Weekes
---
Dragon Age: Tevinter Nights
Ancient horrors. Marauding invaders. Powerful mages. And a world that refuses to stay fixed.
Welcome to Thedas.
From the stoic Grey Wardens to the otherworldly Mortalitasi necromancers, from the proud Dalish elves to the underhanded Antivan Crow assassins, Dragon Age is filled with monsters, magic, and memorable characters making their way through dangerous world whose only constant is change.
---