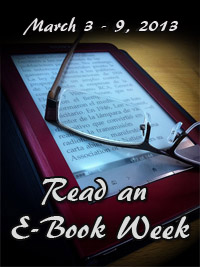 –
I know I'm a bit late in announcing this, but I wanted to tell everyone that I'm participating in Smashwords' 'Read an E-Book Week'!
The event runs from 3-9. March, and it's an amazing chance to discover new writers at bargain prices. As a treat to people who follows this blog, as well as those following me on Facebook and Twitter, both Huntress and Resounding Echo will be free during this week.
If you have yet to pick up one of those titles, it's the perfect chance to do it before Silent Sound gets released in late March or early April!
I plan on spending 'Read an E-Book Week' discovering a lot of great new writers, and I hope all of you will do the same! 
Why are you still reading this? Get going! 
–