Spoilers for episode 2 of Witcher School. 
Oh, I have been longing to write another one of these posts!
(Which is why I have no idea why it has taken me so long to finish…)
I got home from Episode 2 of Season 4 of Witcher School, my third WS episode, a couple of weeks ago. I think I'm starting to get the hang of it, because I could already walk again by Monday evening.
If you want to read my account of Episode 1, you can find it here.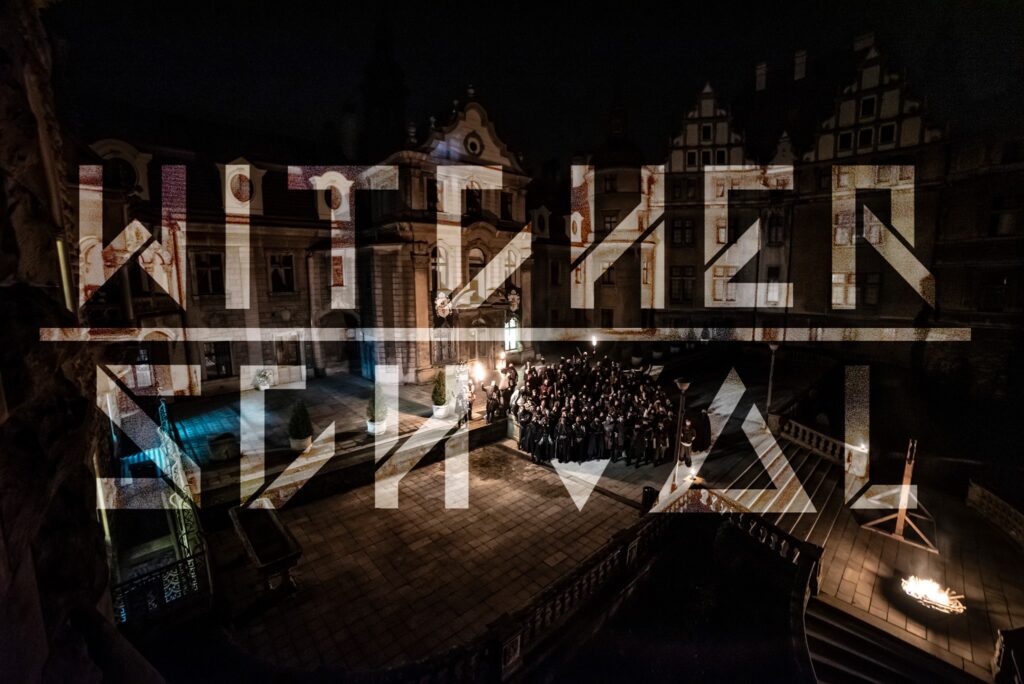 ---
Covid-19 Notice
Before any of you rush to the comment section to talk about how irresponsible it is to go ahead with a LARP event in these times, let me tell you this:
I felt far, far safer during the event than I would have on the street back in Denmark.
The organizers took our temperature before we even got on the bus to the castle, then again once we arrived, and then at least once every day during the event. We had to cover our faces at all times unless we were eating or outside with no one within 2 meters of us. We were all given a spray bottle of hand sanitizer we had to carry with us at all times, and there were organizers making sure we used it before going inside the castle or entering the dining hall. We were not allowed to touch each other's drinks, and all weapons and the like would be disinfected immediately after use. We had designated spots in the dining hall, and our table was shared only by members of the group we spent the most time with during the day.
Before the game, we were also taught discrete hand signals to remind people if they forgot to put up their masks or disinfect their hands, and they worked great.
It also helps that witchers are used to being yelled at and made to do push-ups if they don't follow orders. On the plane back home, I couldn't help thinking that the Covid safety would have been vastly improved if we had had Master Harlav up in front of the aisle, yelling at every idiot who thought a mask didn't have to cover the nose…
---
Now, on to the fun part!
---
My Character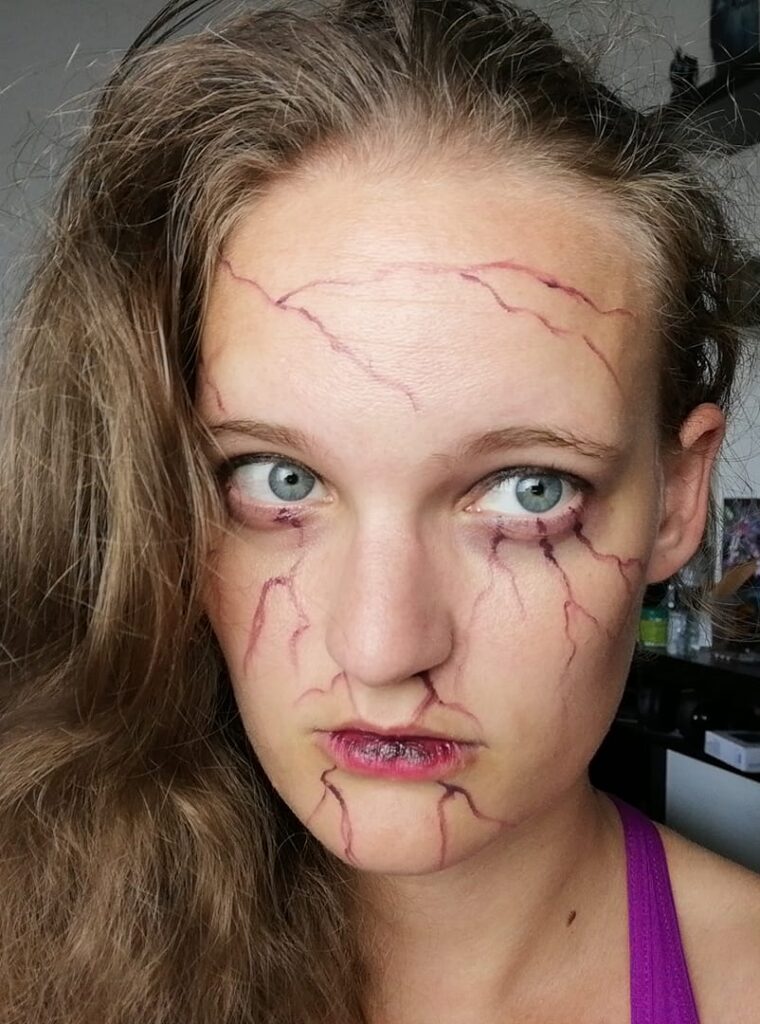 This episode I was returning as Stella of Nilfgaard, one of the nine witchers from the School of the Cat who went to Kaer Tiele in Episode 1. Stella is a bit of a bitch and can be rather condescending, but beneath that – and her tendency to mess with people – she's not a bad person. And that turned out to be her downfall this episode.
Like all the Cats, Stella's Trial of the Grasses left her with a lot of side effects from the mutagens. Kaer Tiele's mage, Cosimo Malaspina, was supposed to help, but, well… if you read about Episode 1, you know how that turned out. So, out of desperation, Stella went to Malaspina's terrifying assistent, Master Meinard. He agreed to help her, but the first attempt only made her symptoms worse. However, Meinard had another idea, but for that he would need herbs that could only be found in Redania, so Stella went with Master Dirk and his group when they escorted Princess Liva back to her home. Making a detour away from the group, she found the very last herbs of the season, but as she journeyed back, she came by a group of crying villagers. Spurred by that tiny decent part inside of her, she asked them what was wrong and they told her all the village's children were dying and that someone had taken the herbs they needed to cure them.
See where I'm going with this?
Stella gave them the herbs, got absolutely no thanks, and returned to a Master Meinard who berated her for her decision, telling her how it was much easier to make more children than to make a new witcher. He now considered Stella to be a waste of his time.
So, basically… Stella was screwed.
---
Witcher School
This was Season 4 Episode 2, and took place during 1.- 4. October.
I won't go into too many details about the setting or the workshops this time, but if you want to read about the amazing job the organizers do to make the game immersive and safe at the same time, read the post I did after my very first Witcher School event.
Let's just go straight to the game, alright?
The Game Begins
It should come as no surprise that our return to Kaer Tiele started with something exploding.
We were all gathered in the courtyard on Thursday evening when we heard a loud boom from the direction of the alchemy lab, and we all ran to see what was going on. A master told us to cover our faces in case of toxic fumes or whatever else could be waiting for us (see what they did there?), and a group went inside to locate Master Meinard, while the rest of us went inside the forest, because someone had seen something flee the lab just after the explosion.
At this point it was raining fairly badly, so it won't go down in history as my favorite night hunt. But the things we found in the dark were wonderfully creepy.
They were wearing witcher medallions, but it looked like someone had cut up their faces and then melted their flesh like candlewax. They were yelling like madmen and screaming in pain, but I could make out phrases like "Look what he did to us!" and "Meinard must pay", before they rushed forward and Master Dirk decided enough was enough and made us kill them.
So glad I wasn't the NPC who had to lie in the mud and pretend to be dead until the rest of us went back to the castle to get dry…
A Familiar Face… Just Not to Stella
After getting back to the castle and hearing that Master Meinard was alive – but didn't know what had happened – we all got in line to enter the dining hall for dinner. While waiting, Stella noticed Kaer Tiele's steward (and unofficial Grandmaster, since no one knew where Grandmaster Gregor had disappeared off to), Bertram, talking to this odd bald man that she didn't recognize.
But Michelle did.
He was dressed in the clothes of a simple merchant and holding a spoon, of all things, and everyone who's played The Witcher 3: Heart of Stone knows things are about to get messed up when Gaunter O'Dimm shows up.
But alas, Stella lives in a world without video games and left Bertram to make bad decisions.
A Surprisingly Uneventful Evening
After dinner, Stella met up with her group, the Ashes, though it really lived up to its name this episode. Out of the original 16-17 members, only 3 were present for this episode, but there were a lot of newcomers for Stella to not bother learning the names of. Master Gunhild upheld her tradition of hosting a tea party for the Ashes, and this time she told us the tea was known for giving you the ability to see your future.
So, basically, she drugged us.
At some point during the evening, fellow Cat Adrian located the rest of the members of our school, telling us he had found another Cat master. This was a big deal, since Kaer Tiele's only Cat master, Master Reinicke, had disappeared somewhere, and we were only 4 Cat adepts left. Considering our talent for pissing people off – and our frequent need to cover up murders – this didn't leave us with great odds. So we were all thrilled to meet Master Fausto, the flashily dressed new fencing master, and we immediately told him about the Blue Stripes sergeant that had accidentally gotten himself killed the year before, in unfortunate events that Adrian in no way could have prevented, and about how Adrian definitely didn't threaten to cut off the balls of an adept who witnessed the whole thing, but also about how it's slightly problematic that this adept had now joined the Blue Stripes.
Master Fausto was very understanding.
I doubt Master Reinicke will be, once he finds out that we replaced him with an ACTUAL cat we named New Reinicke…
Classes Begin… For Some
As always, the following morning brought a witcher master yelling outside our doors for us to get our asses up for morning warm-up. Somehow I made it without being late, even though I had to do the hellish makeup I decided on to show Stella's sickness. Master Aaron led the morning warm-up this time, and Stella quickly decided that morning people like him needs to be executed.
Morning announcements followed the warm-up. They were mostly about how Grandmaster Gregor had disappeared and how we would need a vote to choose his replacement, but I think most of us were more interested by the weirdly shaped burn mark on Bertram's face. Once again, there are things that Stella doesn't recognize, while Michelle does…
Slightly worried that our dear steward, whom Stella is rather fond of, might have sold his soul to the devil, I nonetheless went to check out the Ashes' schedule for the day and was rather surprised to discover my first class of the morning to be Etiquette with Philippa Eilhart.
Stella was not so much surprised as she was horrified.
What kind of witcher school wastes their adepts' time with etiquette? However, Stella has a healthy amount of respect for Philippa – or at least for her ability to reduce someone to real ashes – so she planned on attending long enough to learn which knife it was appropiate to kill yourself with.
However, her plans were spoiled when Adrian tracked her down and said he had gotten Master Meinard to agree to help him out with his mutagens, and that the alchemist only had time during the morning. Seeing as I didn't want to have to do my messed-up-mutagens makeup forever, and as Stella would rather be strapped to a table and cut open than endure a lecture on etiquette, I had no choice but to follow Adrian to the alchemy lab.
The Doctor is In
As mentioned above, Stella and Meinard had a lot of story that went on between the episodes. Unfortunately, it quickly became clear that the guy who plays Meinard didn't remember this. I can't blame him, considering he was playing the most central character of the episode and had to be involved in countless small storylines, but I would be lying if I said I wasn't disappointed that I wasn't able to play on that backstory. If he had remembered, he would have told Stella that she had already lost her chance, and I would have had to do something drastic to convince him to help her again. And it's always fun when you have to do something drastic in a LARP.
As it was, he merely brought Stella, Adrian and three Wolf witchers that also had problems, down into the crypt that he had turned into his personal workshop. It was still dark, covered in giant spider webs, and creepy as hell, but – apart from the spider webs – that could also be a description of Meinard himself, so it felt fitting.
So did the trays with entrails on the table. And no, they weren't props made of plastic.
When Stella explained her issues to Meinard, he told her he suspected the problem to be her liver and made a big deal out of grabbing a liver from a tray and showing her what he would have to do to hers if he were to help her. He told her it was quite possible that she was going to die in agony, but that if she was up for it, she should bring him a blood sample the next time she started coughing up blood.
On the way back to the castle, James (aka Adrian) discreetly slipped me the vial he kept blood capsules in, so I could make a show of it.
Searching for Fun
Since there was still some time left of the first classg, and since none of us wanted to stroll in late, Meinard's five new test subjects decided to go into the forest to find something fun to do. We didn't have a lot of success, but we did meet a Noonwraith, and Stella tried to convince Adrian to get a dress like that.
It got a little better once we were heading back to the castle. As we reached the edge of the forest, we saw three elves approach us. An older-looking man, franked by two scary looking women with swords. Honestly, we were all rather surprised when the man told us they came in peace and asked to talk to the steward of the castle. One of us quickly fetched Bertram, and the elf told us he was the original owner of the castle the Wolf witchers now called home. However, he was not there to make problems for us. He merely wanted to return to his childhood home, seeing as he was nearing the end of his life and wanted to perform the elven Ritual of Passing. Then he requested Bertram to bring him three items from the castle: A golden burial shroud, a painting he once made of his brother with a squirrel on his shoulder, and a doll of an elf with a sword.
Bertram, being the good guy that he is, agreed to try to find these things. Stella, being fond of Bertram and knowing the steward was awfully busy, offered to help.
Obviously, it had nothing to do with getting an excuse to skip Signs class…
She asked Bertram where to start looking for the painting, and he said he didn't keep track of how many paintings in the castle contained squirrels. Stella pointed out that she didn't know his hobbies, and actually managed to get a chuckle out of the overworked steward.
Raiding the Castle
Stella went on her search and quickly found a piece of golden cloth lying across a table in the library. Tracking down Bertram, she asked if that could be the shroud, or if she had just stolen a tablecloth. Bertram felt it was likely the right one, and Stella rushed off again. She ran into Adrian and they went to grab Halvar, who were talking with a new Cat master, Master Elinor. Elinor was curious about what they needed Halvar for, but since many people are hostile towards elves, Stella wasn't going to just tell everyone there were elves walking around the forest. Instead she just told Elinor that she was looking for a painting of a boy with a squirrel, and Elinor, being a Cat, didn't ask too many questions and instead just started telling everyone who passed to go look for a painting of a squirrel.
Stella quickly grabbed Halvar and Adrian before things got out of hand.
Going to the tavern next, Halvar located the most terrifying doll in history, and while Adrian went off to his next class, Stella and Halvar broke into the Grandmaster's quarters where they found the squirrel painting. We showed Bertram, who told us to hide the items somewhere safe until we met up with the elves after lunch.
Gunhild cornered Stella after this and asked why she wasn't in class. For once, Stella actually had a good excuse. But seeing as this excuse involved her voluntarily helping other people without getting anything in return… Gunhild didn't believe her at all.
Going to a Funeral
After lunch, I went out into the courtyard to wait for the meeting with the elves. I had wrapped up the collected items in my cloak, in an effort to be discrete, but there's nothing more interesting to people than someone carrying a bundle of concealed items.
Plus, since Stella is a Cat, everyone just assumed she was smuggling stuff.
I went off to the side to be out of the way, but this backfired as well. Master Gunhild marched up to me and told me to "stop skulking in the corner".
I just don't know why she doesn't trust dear Stella…
But eventually a group of us, including Halvar, and accompanied by Master Ylia, Master Elinor and Robin the bard, went to meet the elves. The old one was very grateful and invited us to witness the ritual, so we went into the forest together.
I must say, it was the most lovely suicide/funeral I've ever been to. Master Ylia and Robin sang a beautiful song while the female elves covered our gracious host in the golden burial shroud – which Stella had neglected to mention had been used as a tablecloth when she found it – and the elf slid open the veins on his arms and bled all over the place.
And when asked by Master Gunhild why I missed her Monster Knowledge class, I could honestly say that the only one who died was the one who was supposed to.
Well, I guess that's not strictly speaking true… On our way back, we met one of the mutants we had first become acquainted with on the first night. This one was just as out of his mind as the others, but we did manage to find out that his name was Hans and that he had gone through the Trial of the Grasses, performed by Master Meinard. Through all the rambling, we could also gather that Meinard had kept the failed witchers that survived and that someone had let them loose. Hans wanted to kill Meinard, and while Stella couldn't really blame him, the others were not willing to let their only mutagenist get murdered. We offered to bring Hans back to the castle to try and help him, but that freaked him out, so kind-hearted Master Ylia ran back to the castle to fetch someone that could help. Master Elinor also wanted to help poor Hans, but her methods were a little more… Cat School. Surprisingly, it was the Wolf adepts that ended up killing the wretched thing, but not before being given a letter to bring back to their non-existant Grandmaster.
Somehow, two bodies turned up in the presence of three Cats within an hour, and the Cats were not to blame…
(Not directly, anyway. Elinor might have egged the Wolves on…)
Sabotaging Democracy and Getting Defeated by an Acorn
After getting back, I was informed by Adrian that Master Toriel had invited the Cats to a meeting before dinner. Seeing as Toriel was one of the candidates vying for the role of Grandmaster, we figured she wanted to buy our votes. And seeing as we were Cats, we were alright with that.
With that out of the way, I finally went to a lesson. It was Fencing with Master Fausto, and I needed to see what kind of witcher our newest Cat at Kaer Tiele was.
What I didn't need was to lose all my dignity to an acorn.
We were training in the shade of a small group of trees. This meant two things: We spent more time swinging at demon mosquitoes – no mosquito should get as big as the ones at Moszna Castle this autumn – than at each other, and, the ground was covered in acorns.
I quickly learned that my beloved boots did not have the right soles for fencing on a layer of acorns. Halvar noticed my trouble – it would be hard not to, as I kept yelling "Fucking acorns!" – and told me not to fall on my ass. Which is why, when my foot slid from under me in the middle of a fencing move, I landed gracefully on my wrist.
Somehow I only bruised it and, though I did have to sit out the rest of the lesson, I was alright come the hunt later that night.
But my pride still hasn't recovered.
After threatening Halvar with a slow and painful death if Master Reinicke were to ever hear about the incident, we returned to the castle to meet up with Master Toriel. Masters Elinor and Fausto, Adrian, Einar, Halvar and Stella all listened patiently as the small archery teacher explained how she wanted to help the Cats and create a friendship between our two schools. However, the other candidates might not feel the same way, and our place at Kaer Tiele could be in danger if a witcher like Master Arlana became Grand.aster.
Obviously we assured her that we would vote for whoever offered us the best deal.
Cats are simple creatures.
We were given time to discuss our terms in private, and we quickly agreed on the following:
We wanted the Grandmaster to promise us protection against Temeria and the Blue Stripes.
(Not that any of us had done anything that could possibly get us in trouble with the Blue Stripes…)
We would take on the Temerian contracts that Master Gedymin usually took care of.
(The ones that might not strictly speaking be legit witcher work…)
We would get to recruit up to 5 new adepts for the Cat School every year.
Master Toriel agreed readily.
She had probably expected a lot worse from us.
Spoons and Mirrors
After dinner that night, Stella was sitting in the tavern with Halvar and one of the new Ashes adepts, Jade. The tavern was mostly empty…
Save for a certain mirror merchant.
He came up to our table, this shady character that Bertram had described as 'evil'. And Halvar… asked him about spoons.
What followed was the most surreal conversation I have ever been part of. Gaunter O'Dimm, heavily hinted to be the Devil himself in the Witcher games, happily started talking about his collection as he pulled a dozen spoons from his bag, overjoyed for someone to share his interest.
This must have gone on for at least twenty minutes. At one point, Stella mentions that no one can have use for that many spoons, to which O'Dimm replies:
"It's not about using, but about having. I don't use– well, sometimes, I use them…" And this is where it comes in handy wearing a mask, because no one noticed me choking and falling out of character as I recalled a certain scene from Heart of Stone.
O'Dimm finally departs, with a promise to Halvar of providing advice if he wants to start collecting spoons himself, and the second he's gone Stella turns to her fellow Cat and tells him that he's not going to start collecting spoons.
And this is where it all goes downhill, because Stella is in the same group as Halvar, and Michelle is sharing a room with his off-game counterpart.
And neither is letting go of the spoons. 
After about ten minutes of Halvar and Jade rambling about spoons, Stella spots Adrian and runs for safety. Because while insanity might follow Adrian, it's an insanity she knows how to deal with.
After ascertaining that Adrian also finds the idea of collecting spoons to be idiotic, Stella decides to pull out the big guns once Master Elinor enters the tavern. A quick explanation of the situation has Elinor marching up to Halvar's table and yelling at him until he agrees that maybe he should start collecting coins instead.
If only it had ended there…
Night Hunts and Cat Diplomacy
I got a break from spoons once it became time for the nightly hunt. As there were no loose werewolves or the like, the masters had prepared some tests for the adepts out in the forest. I went with Master Gunhild and some of the other Ashes, and for some reason, a Blue Stripe tagged along, as if he didn't know what happened to Stripes that went into forests with Cats…
Our first encounter was a demon who was fond of throwing boulders at people. It was guarding the magical sigils we needed to banish it. Stella, ever the diplomat, tried to communicate:
Demon: "Fuck off!"
Stella: "You fuck off!"
When they didn't reach an agreement, Stella spent the rest of the time dodging boulders that ended up hitting her teammates instead. Somehow, we managed to banish the damn thing and went further into the forest where we ran into more of Meinard's angry friends. They wanted Meinard, and we had to explain to them that we hadn't thought to bring him with us. One of them asked where Hans was, which confused the rest of the group who told him they didn't know who Hans was.
But unfortunately, Stella did.
They weren't really happy to learn of Hans's death – even if it totally wasn't Stella's fault this time! – and they didn't listen when Stella very reasonably tried to explain to them that they wouldn't win if they forced the witchers to fight. But no one's ever happy when Stella tries to be a decent person, and soon we had three dead mutants on our hands.
By now, Stella was having serious doubts about getting help from Meinard. And it wasn't like she had been all that thrilled about the idea to begin with…
But the hunt must go on. We were nearing the cemetery when we heard noises coming from the darkness. Judging from our location and the wordless snarls, ghouls were a pretty safe bet, but we couldn't see them. It sounded like there were two of them, but Stella would rather try to draw them out than to rush into the darkness after them, so she tactfully tried to get their attention:
"Hey, fuckers! Come out and plaaaay!"
No takers. Master Gunhild was getting impatient with how long it took us to finish the various encounters, so another member of our group engaged the unknown assailants head-on…
And that was obviously when we were attacked from behind.
Good news is that we were right: Two of the monsters were ghouls, and they were just chilling with a grave hag. Too bad we didn't have young Victor with us, because the old gal looked like she could use a hug.
That's it for the night hunt, really. Wish I had something more exciting to offer you, but it was mostly just us running around like headless chickens and Stella yelling insults…
Bard-offs and Catfights
Later, back at the tavern and drinking a beer courtesy of Master Gunhild, we all got to warm up by the fire, safe and sound.
Well, except for Adrian, who was dying.
As a fellow Cat, Adrian also struggled with his failing mutagens, and one of his worst side effects was an inability to cast witcher signs. Turns out he tried to cast just one sign during the hunt, and that's how he ended up dazed and covered in blood after he managed to stagger back to the tavern. Stella, being a good friend, told him to come tell her if he died and went back to the Ashes, just in time to get a front row seat to the Bard-off between bards Robin and Severin.
The audio is rough, but that's what happens when the cameraman has to hide on the balcony and pretend nothing like him exists.
All in all, it was a good night. But what kind of Kaer Tiele evening would it be without a little drama…?
At one point, I went upstairs to use the litter box. Everything was well when I left, everyone drinking and laughing. I was gone maybe ten minutes, but when I got back down to the entrance hall, I was met by shouting. Rather puzzled by the sight of all the tavern-goers gathered in the hall, I watched as Master Elinor and Master Fausto – the Cat masters who had been joking together when I left – faced off against each other, Elinor yelling something about Fausto betraying her, while Fausto tried to calm her down.
Elinor was not about to calm down, and when the two Cats rushed outside to the courtyard, we all followed to watch the following duel, which ended with Fausto accidentally killing Elinor.
This is when the shady shit started.
After the other masters checked that Elinor was, indeed, dead, someone called for her body to be taken to Master Meinard. This caused a lot of protests, but the Cats had other concerns at that moment. Concerns mainly about getting the traumatized Fausto into a chair in the tavern and getting him a beer, while we tried to assure him that Elinor had left him no choice and that we didn't blame him. When Bertram showed up (seriously, I don't think that guy ever sleeps), we told him the Cats wanted to give Elinor a proper funeral instead of leaving her with Meinard, and he promised we would talk about it in the morning.
Eventually, Halvar and Stella went up to their room and Halvar nearly died as well when we went off-game and he exclaimed:
"Now Elinor's dead, I get to collect spoons!"
Dying Cats and Deals with the Devil
I promised you some shady shit, but bear with me for a while.
Despite actually wanting to try out a class with Master Dagmar, I decided to skip Survival after the morning warm-up, since I needed to prepare for a scene and, honestly, I could use a break.
Besides, there's only so many times you can be told you're crap at making fires before Survival classes lose their charm…
So I spent half the class lying in my bed, listening to the sounds from the courtyard below. I thought I heard Master Elinor's voice at one point… but of course that's ridiculous. I finally got up, fixed my makeup so I looked extra sick, got partly dressed, and then I popped one of Adrian's blood capsules in my mouth.
Why did they make these things taste like real blood…?
Anyway, I made sure to get the stuff all over my lips and chin, then smeared it on my throat and over this shirt I've never really been that fond of, put on the rest of my costume, and then waited just long enough to be late, before I staggered downstairs to go to Fencing with Master Edwin.
I had wanted to do this scene at the tavern where I could create more panic, but coughing and spitting up fake blood in close proximity to a lot of people seemed like a very bad idea, considering the whole Covid thing, so I had to improvise. I put the last blood capsule under my tongue and staggered toward the spot where the Ashes were already doing exercises, and once they noticed me, I fell to my knees, rambling and spitting up blood when they asked me if I was okay.
…And then they went back to fencing practice, and I realized I hadn't thought further than this point.
So I was laying there in the grass, staring at my shaking, bloodied hands, rambling about how I didn't get a blood sample for Master Meinard every time someone approached me, but it eventually became awkward how little concern people paid me once I told them not to fetch anyone. I guess I have to work on my acting skills, because I might need to be more convincing as a dying person in the future.
In the end, I shakily got to my feet and staggered back to the castle, looking for one specific person. Luckily, Gaunter O'Dimm is somehow always around and Stella cornered the mirror merchant inside the castle and told him to fix her. He brought her upstairs to a table in a shady corner and made her explain her situation, and in the end he promised to look into it and come find her later.
So while waiting, she found Halvar who told her Elinor was back and that he gave her the spoon he had planned to put by her funeral pyre.
At this point, Stella was reaching her limit for what she could deal with.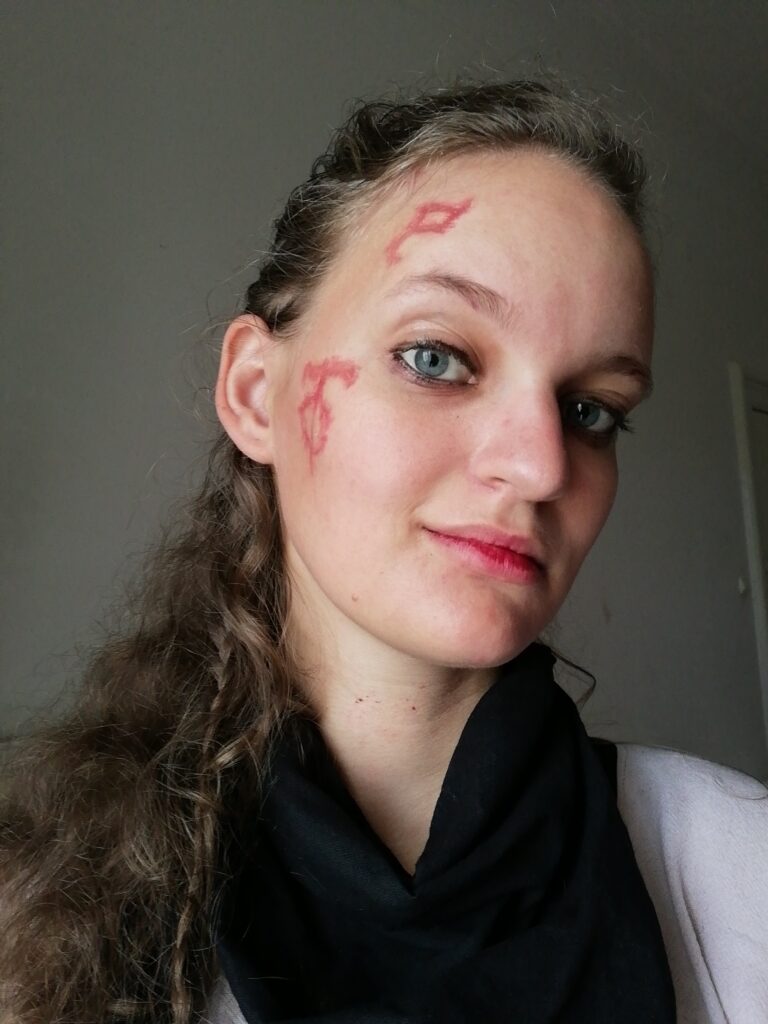 Fortunately, O'Dimm found her before the fucked-upness of that day got to her and she started stabbing everything out of pure frustration, and told her he could help her. He told her she would be strong and healthy, a proper witcher, and that there would only be one tiny downside. Stella didn't care as long as she got fixed, broke the crappy, disposable spoon O'Dimm offered her in half, and then let him lead her down to the off-game area, so he could tell me about this tiny downside, before he brought me to get my new makeup done.
And this is how Stella ended up with a paralyzing fear of musicians.
Let's hope she can renegotiate her deal in a future episode, because screaming every time she comes close to a bard is going to be problematic…
So, knowing my character was pretty screwed, but still excited to get rid of the veiny makeup I had stuck myself with, I went to the makeup room and let the experts replace it with O'Dimm's brand. Since I was now going to be playing a vain and newly healthy Cat, I asked them to do my hair as well and while they were doing that, I made eye contact with the 'person' in the makeup chair next to me…
I suppose even Noonwraiths need someone to do their hair.
Noonwraiths and Cats with Nine Lives
Stella, now healthy and with great-looking hair, went full-on Cat and skipped Alchemy with Master Lile to prance around and bask in the sun. Lounging on a bench, she listened to the nearby explosions coming from the alchemy lab, watched Master Dirk lead Pebbles the Earth Elemental out of the forest – since no other explanation was forthcoming, she assumed it was just Dirk's girlfriend – and eventually spotted Master Gunhild leading the rest of the Ashes to a secluded spot for one of her sit-down meetings (thankfully without the tea). Cheerfully, she joined them and asked if they were plotting without her, and received the glare she believes Master Gunhild reserves just for her.
This meeting was all about who we were going to vote for during the election for Grandmaster, so it was an easy one for Stella and Halvar, since the Cats had already made their arrangements.
(Telling Gunhild this earned them another glare.)
Now it was time for Archery with Master Aaron, and neither Stella nor Michelle want to miss the chance to shoot stuff, so for the second time that game they turned up to a class on time.
Now, Michelle does archery casually at home, but all her arrows have one feather in a different color to the others, so she can easily see how to turn it as she places it on the bow. Witcher School arrows are not as idiot-proof, meaning they're like USBs – two ways to turn them, always take three tries to get it right. This earned Stella a stab in the ass with an arrow – though I do believe Master Aaron was probably aiming to hit her on the side of the hip and just missed – when she didn't get into a proper archery stance before she started fumbling to nock her arrow.
A little while later, when Master Aaron was correcting her draw, he also very politely punched her in the face to kill a mosquito.
(Again, I do believe it's likely because it's safer – Covid-wise – to use knuckles instead of slapping someone, but let's be honest: it was just a matter of time before someone punched Stella in the face.)
Her arrows didn't seem to like Stella either. Judging from the red tint to the white feathers, she had gotten the ones that liked to slice open the hand of their archer. But what's a little blood, as long as you get to shoot stuff…?
Unfortunately, she had to leave the lesson halfway through. Apparently there was a Noonwraith that needed banishing, and Stella didn't want to miss it, just in case something went wrong and it turned out to be fun.
On the way into the forest, she passed by Master Elinor and had just enough time to ask her if she wasn't supposed to be dead before she had to catch up with the group. Halvar helpfully told her that it was apparently the 7th time Meinard had resurrected Elinor, that she and Fausto had made up and were now friends, and that everything was just fine.
Halvar is a 'go with the flow'-kind of guy.
We arrived near the Noonwraith's haunting ground in the forest. Each of our groups were asked to come up with a wish for the Noonwraith, in order to empower the ritual to banish it. Stella informed the rest of the Ashes that had come along that someone else better come up with a suggestion, because her only idea was along the lines of "I wish you would fuck off". Our more sensible members came up with "I wish you to find happiness in the afterlife" and off we went to join the ritual.
Turns out that a lot of rituals around Kaer Tiele involves singing. The masters had located the Noonwraith's sister, who also turned out to be the one who killed her, so we had a lot of lovely family drama while the rest of us sat around, singing a lullaby. Then there was a lot of smoke. At one point, I got attacked by another acorn.
It was all pretty weird.
Someone Finally Stabs Meinard
We hadn't been back long before we saw a dying Master Meinard being dragged from the forest and into the castle.
Or maybe we had… I can't promise I'm remembering all this Wolf School drama in the right order.
Needless to say, it's dangerous to be a mutagenist at Kaer Tiele. I had to pierce the story together over the evening, but apparently the mutants from the forest had kidnapped Master Lile, and Master Meinard, a couple other masters and some adepts, went to rescue her, killed all the mutants, and then somehow Meinard got stabbed. And despite my jumbled-up memory, I do recall that the stabbing happened AFTER all the mutants died.
As, I said: Draaaaama.
So, we had a dying mutagenist, upcoming Trial of Grasses, and several masters who wanted the post of Grandmaster.
The election wasn't as dramatic as Svar's trial in Episode 1, but for once the Cats took part in the voting. After all, they were getting paid for it. Or they would have been, if Master Lile hadn't suddenly announced herself as a candidate and won by a landslide.
Guess the Kaer Marter delegation has some bribing to do next episode.
Sorcery and Totally Sensible Murder Plans
By now, it was almost time for the Trial of the Grasses for the new adepts. Stella joined a couple of the new Ashes members as they waited in the courtyard, assuring them that she would erect a tombstone for them if they died on Meinard's table. She would, however, need to know their names.
Stella doesn't bother with those things before she needs to.
One of the adepts (the one Stella had been referring to as 'Chatty' for days, but turned out to be named Coraline) said she didn't want to end up like one of those mutants in the forest and asked Stella to make sure she was dead if she didn't emerge from her Trials.  And Stella promised she would come murder her if it was needed.
Of course, that was the moment Master Gunhild appeared out of nowhere, prompting Stella to quickly say "She asked me to murder her, I swear!"
Master Gunhild's 'What are you up to, you shady piece of shit?'-look got a lot of practice this episode. And about 10 minutes later when she returned and Stella had to explain why she was threatening to murder Halvar by shoving a spoon down his throat, she had to ask:
"Why is it that every time I pass you, you're making excuses for murder…?"
Stella wisely didn't respond with 'Because you keep overhearing my murder plans', and Jade and Coraline assured Gunhild that, spoons aside, Stella was actually just being helpful for once.
I do think the Ashes might be the reason why Master Gunhild has started spiking her tea…
Murder plans aside, she did request for Stella to be the one to go get the new Ashes witchers when (and if) they made it out of the Trials and bring them to the tavern safely. So either Gunhild is going senile, or she just really hated the new recruits. But seeing as Stella had nothing else planned for the evening, she agreed to help.
See how nice Stella the Cat is being in this episode, Gunhild? She's being positively lovely.
Now, let's get to the part where she hightails it at the first sign of trouble and leaves everyone too slow to catch up to die.
I still don't know why, but the sorceresses Philippa Eilhart and Lytta Neyd wanted to do some kind of ritual out in the forest. I think it had something to do with what happened to Meinard, but Stella was like "Looks like fun, let's go along for the heck of it" and she fell in with Halvar and Master Elinor, neither of whom had any idea what was going on either. But in best Cat fashion, we trailed after the group, hoping something interesting would happen.
This part is a little hazy. We were a LOT of people out there, and the Cats had fallen to the back, so I couldn't actually see what happened, but someone started shouting and since Stella doesn't mess with sorcery, she took off the second someone said 'run'. No one seemed to know what happened, but Stella did notice that neither sorceress was with them when they returned to the castle…
So apparently we just left them there.
A bit harsh, even by Cat standards. But there wasn't much time to dwell on it. A frazzled-looking and bandaged Master Meinard stomped out of the castle and into the courtyard and started shouting.
I have never heard Meinard shout before. And this time he totally lost it. He was calling all of the masters disgusting and yelling at all of us for abandoning the castle – with a wounded master inside – and leaving it unprotected. Then he stomped off to the alchemy lab and Stella couldn't help commenting to the pre-Trial adepts that she was happy she wasn't going to be lying on Meinard's table later.
But the Trials were about to commence. And since it was such a lovely night, Stella found herself a spot in the shadows on top of a banister, and waited for the screaming to start.
The Game Comes to an End
Apart from all the people Stella scared the crap out of because they hadn't seen her sitting on the banister in the dark before they passed her, the next few hours were rather uneventful. Eventually she went to wait together with the representatives from the other groups who had gotten the honor of escorting back their new witchers. Luckily, the one from Mindless was Adrian – why do these Wolf masters think it's a good idea to ask Cats to calm down trauma victims? – so we had a lot of fun catching up. Mainly, we talked about how Adrian had been cleared of the murder he totally didn't commit last episode – and obviously he didn't lead the guy into a trap or anything, either (and that's the story we're sticking with) – until the first adepts began staggering out.
The first of the Ashes adepts was crying and shaking, so Stella assured her she was being escorted towards beer. She also made sure she had all her limbs and told her it was a good sign her head was still the right way around. Then she brought her to the tavern, found a witcher from the Ashes and told him to tell Master Gunhild that the adept was crying before she even got to Stella and that it wasn't Stella's fault.
In the end, all three new adepts from the Ashes survived and Stella brought them to the tavern, before hastily leaving, since a bard had sat down at their table, and for some inexplicable reason Stella had the overpowering urge to run away screaming…
Eventually, the Trials ended, everyone got together in the courtyard, Gaunter O'Dimm dragged off Bertram, Master Ian – who I hadn't seen do much besides arguing with Dirk and working on armor – appeared to become possessed, and then… the game was over.
I'll be honest here, I feel the ending was rather unsatisfactory this time. If it was discovered who stabbed Master Meinard, I certainly didn't hear about it… and who let out the mutants from his lab? What happened to the sorceresses? And is no one going to save Bertram?!
I'm fine with the whole Ian-thing being left unanswered to make a mystery for the next episode, but I really felt like the Meinard-drama needed more of a conclusion.
But enough about that. It was time for the afterparty, which meant:
Food.
Not to mention seeing a smile on Master Gunhild's face, since her off-game persona Danai gets along much better with Michelle than any of their respective characters ever do. And I got to find the guy who played Gaunter and ask him "Do you know what you did to me?! There are bards everywhere!" to which I received a joyful grin and the words "Oh, I know."
But he made it up to me when he let me borrow his spoon, so I could go to the photobooth with Daniel (aka Halvar) and take a picture where I was about to beat the crap out of him with a spoon.
If it turns out good, it will be my screensaver forever.
---
As always, I will update this post once I get some pictures. I know this wasn't the most exciting episode to read about, but I still had a good time, even if it was less intense than usual.
All that's left for me to say is:
Don't do spoons, kids. Not even once.