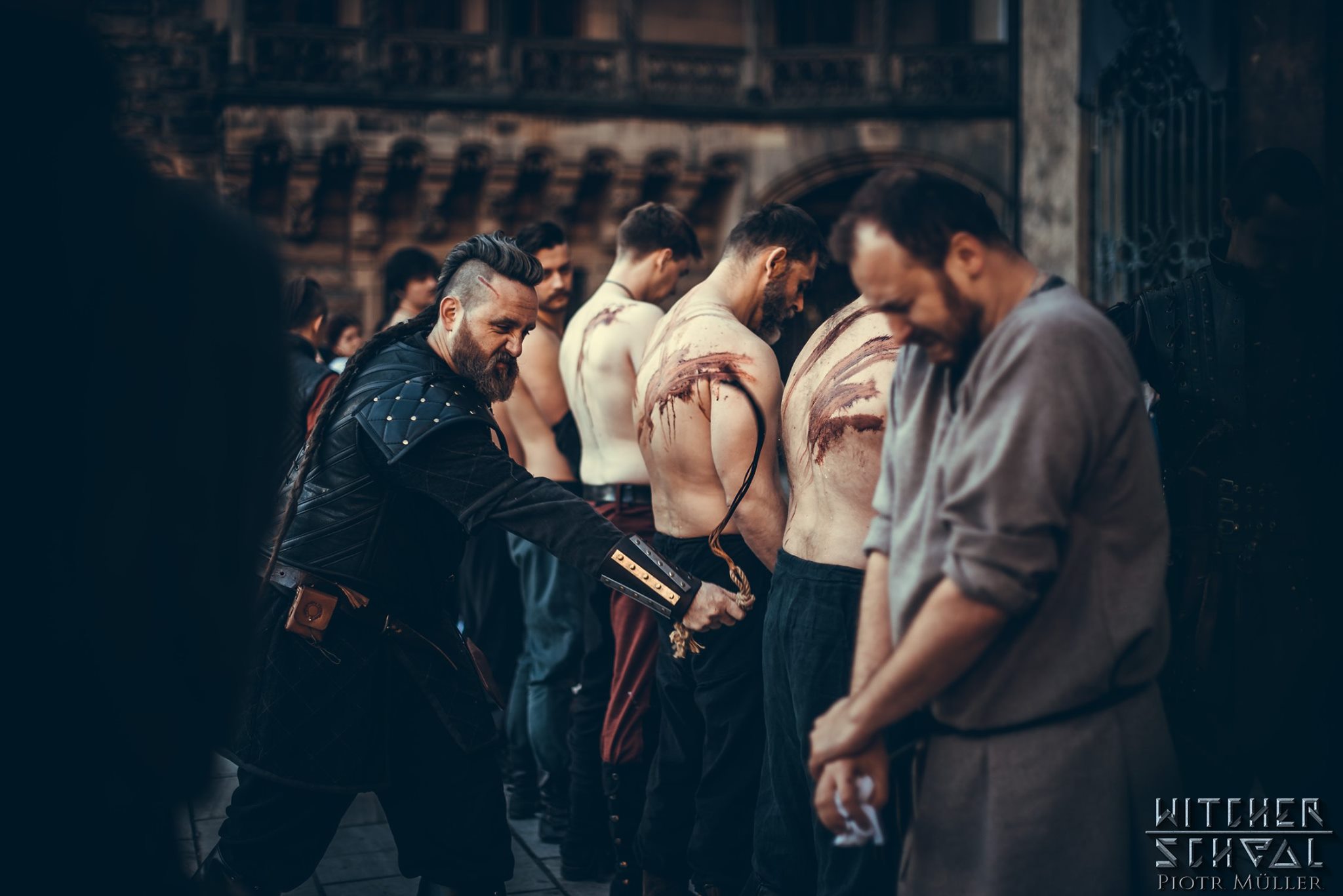 Spoilers for episode 1 of Witcher School. 
Okay, where to begin?
I got home from my second Witcher School LARP Sunday evening. At the time of writing this, it's Tuesday and I finally feel like I can lift my arms for long enough to write this post.
If you want to read about my first time at Witcher School, you can find it here. That one might be more entertaining, because this time I got out with most of my dignity intact.
---
Before the LARP
This was my second time at Witcher School, but it was also another season, and that caused both fun and confusion. Each Witcher School season follows roughly the same storyline and has most of the same NPCs, but they also share many of the same actors playing said NPCs… just not necessarily the NPCs they play in other seasons.
This was quite funny, because when we received the NPC list, I realized there was a very real chance that my tutor would end up being one of the Temerians I had spent all my last game picking fights with. Also, the Master my personal character sheet told me I was supposed to stop from doing anything stupid was played by the guy playing Master Bastian in my other season, and "doing something stupid" is basically Bastian's M.O.
My Character
Personally, I was playing a character quite different from the one in my other season.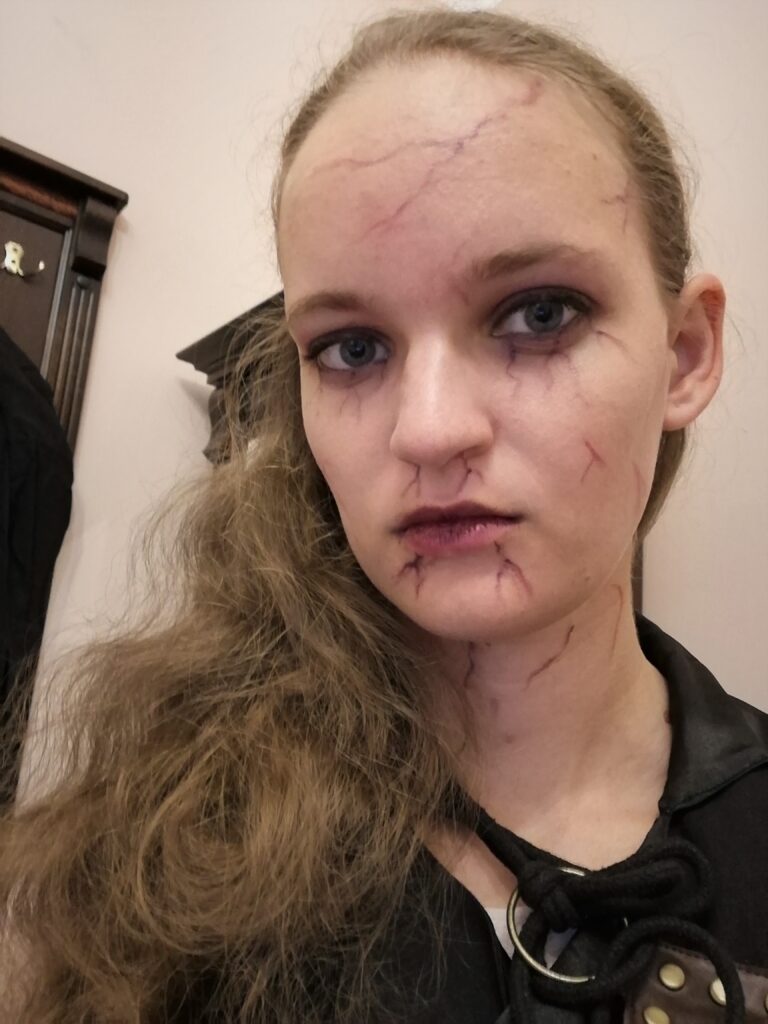 Stella grew up in Nilfgaard where she couldn't expect anything from life except being married off to some man her parents chose for her and start raising children. She was not interested in that, and she ran away from home, only to later be captured by bandits who intended to sell her to slavers.
She was saved from that fate when they encountered a group of Cat School witchers, and their Grandmaster, Astrid, offered to play a game of Gwent for Stella's life. She won, and Stella went with her to Kaer Marter and underwent the Trial of the Grasses. The Trial, however, didn't go quite as planned, and even though Stella survived, she and many of the other Cat adepts ended up suffering from far more after effects than they should have.
The base character in itself is honestly not that interesting: she doesn't have a deeply tragic backstory, or any powerful conviction that drives her, but there's a lot to work with with her. In the beginning, I thought I would play mostly on the fact that she was suffering strongly from the after effects of the Trial of the Grasses, but once the game started I ended up focusing a lot more on her identity as a Cat School witcher.
My Stella ended being a perfectly pleasant person (to people's face, anyway), but she made it a point to tell the Wolf adepts that you should never trust a Cat.
---
Witcher School
This was season 4 episode 1, and took place during 10.-13. October.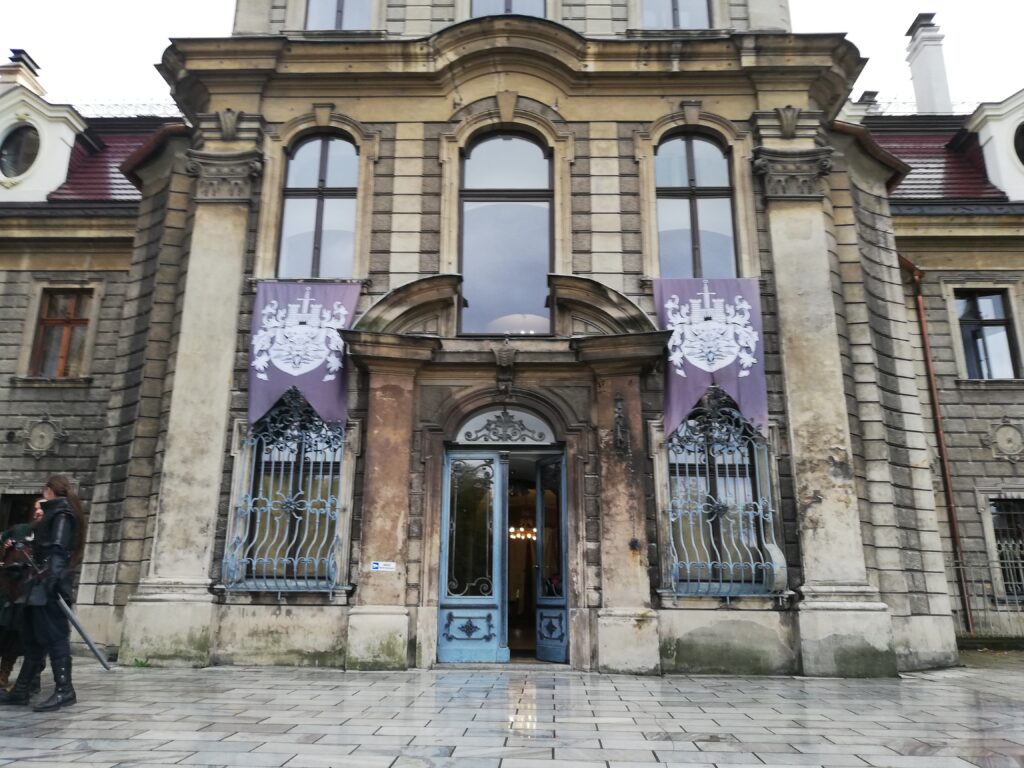 Arriving
I'm not sure if the wonder ever wears off, but as I turned around the corner to see Moszna Castle, I was once again stunned by how freaking beautiful this castle is.
It's even easier to appreciate it when you know your way around and do not spend all your time being lost…
I'm not going to spent a lot of time describing all the work the organizers do to make the experience as immersive as possible, because I know most people reading this post will be my fellow witchers, and the rest of you can go read my more effusive post from the last game.
Workshops
As usual, we had to go through a series of workshops to make sure that most of us would make it through the game without having to go to the hospital or becoming emotionally scarred. Once again, go read my other post if you want more details. It can be summed up by saying that we were taught safe words and told not to set ourselves, others, or the castle on fire.
Also: don't kill Bertram.
Before the Game
Because I didn't get lost 3 times every time I had to go somewhere, I actually had time to put on my makeup before the game started, and I got a lot of compliments on my veined face.
Just before the game was supposed to start, Konrad, who was playing Master Reinicke, the only Cat School Master at Kaer Tiele, took the 9 Cat School players aside for a briefing (he did this by going "here, kitty, kitty" and expecting us to follow him). He told us a bit of how the Cat School differed from the Wolf School, about how his own character would be with us (because most of our characters would know Reinicke from when he taught at the Cat School), and then he asked if anyone volunteered to be slapped in the face with a smoked mackerel.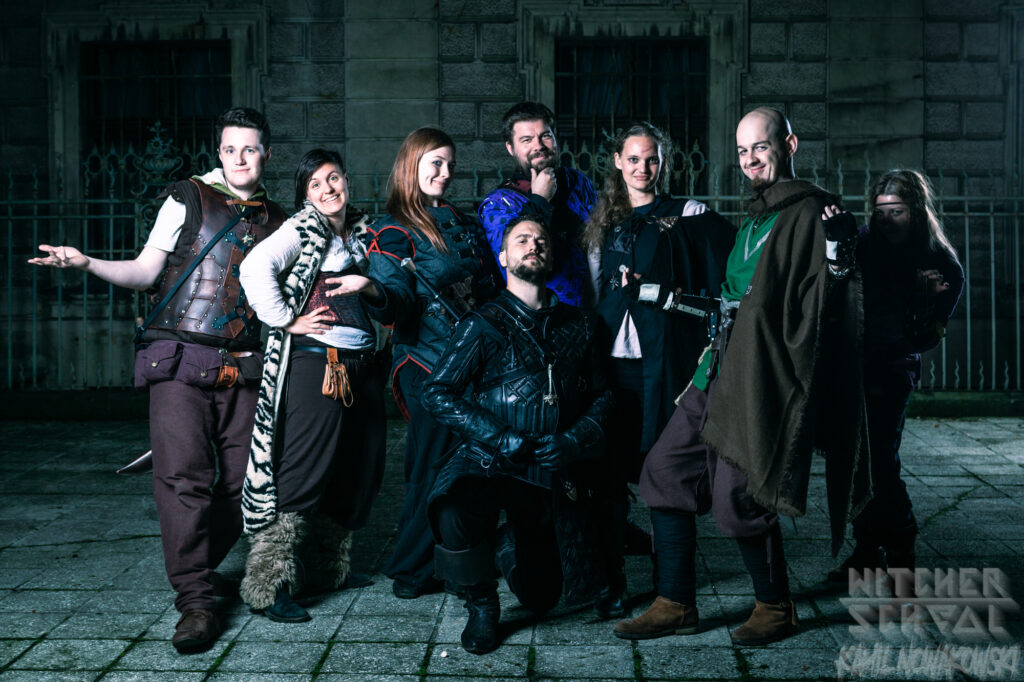 The Game Begins
At the game's beginning, the Cat School witchers were just arriving at Kaer Tiele, so we were herded around the castle to wait just before the game started. With us were three NPCs we had met on the road and who had hired us to escort them: a merchant, Marcus Ortenbeck, his bodyguard, the dwarf Sandor Gottlieb, and Robin the bard.
When the game started we walked back to the courtyard, the Cats immediately falling into character and making mildly condescending comments about the Wolves and their castle. We arrived at the courtyard to see Masters and adepts lined up in front of the castle, and we were eventually introduced as the Kaer Marter delegation. We got to approach their Grandmaster, Svar, with a message from our own Grandmaster.
We were soon forgotten, however, as another delegation arrived. This one was from Redania, led by the sorceress Philippa Eilhart.
Now… the timeline for Witcher School takes place around 200 years before the Witcher games, but everyone who's played the games or read the books will still know Philippa Eilhart.
Trust me, she's just as much of a bitch here.
Unlike the Cats, who had to wait for their chance to approach the Grandmaster, Philippa marched straight through the crowd, dragging a young girl behind her on a chain.
Already getting good, right?
Honestly, I had a hard time hearing everything that was said next, but we all got the picture. Soon we were told to go inside for dinner and as the adepts got in line, the Cats were approached by an elderly mage who introduced himself as Cosimo Malaspina. Obviously, we all knew about him, because one of the reasons we had gone to Kaer Tiele was to find him and ask him to fix our botched mutagens, seeing as he was the one who made the first witchers. He beat us to it, however, immediately asking if he could examine us later.
Sure, it was something we had intended to ask him to do anyway, but I still find it slightly worrying when someone asks me to get up on a dissection table within 5 minutes of meeting me…
We had only just finished our conversation and gotten in line behind the Wolf adepts when we had our next encounter with one of the charming residents of Kaer Tiele. The Cats were talking among themselves and one of them used the word "Master" in conversation.
Apparently, that's dangerous, if Master Gedymin happens to pass by at that moment.
Gedymin is a great example of the kind of professionals the Wolf School employs to tutor their students. Scary, scarred, and totally off his rocker on Fisstech. The second he heard the word Master, he was all up in the face of my fellow Cat, saying he was a Master of None, and delivering what can only be described as undisguised threats.
We eventually got our dinner – and I somehow didn't get beat up commenting on how the Wolves were so obediently lining up to get their dog food – and we went to meet up with our new tutors.
Joining the Ashes
Remember how I mentioned there was a good chance I could end up with a tutor played by someone I spent my last game insulting…?
You bet your ass I ended up with a tutor I kept insulting last game.
My tutor this time was the aging Skellige witcher, Master Gunhild. In a previous life, she played the Temerian officer Corinne Dennetz, a woman my own former incarnation, Eydis, pissed off to the point where she made it her personal mission to break me.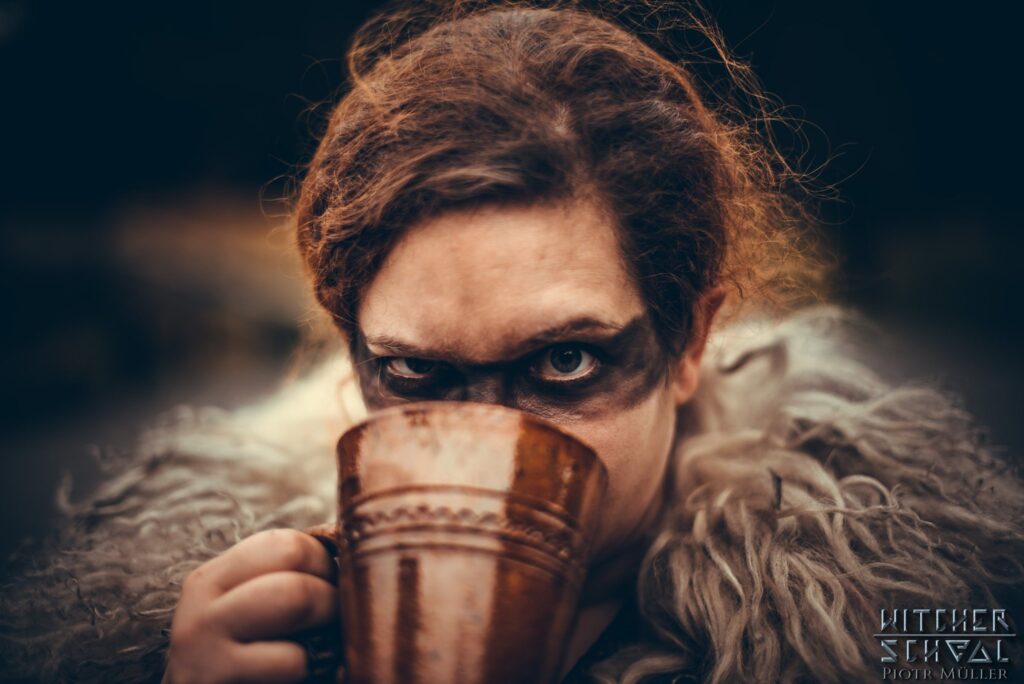 To get to know her group, she took us all into the forest. It was already dark at this point and she didn't tell us where we were going, so most of us probably expected something quite horrible. Instead we ended up making a fire and she sat us all down around it, served us tea, and told us to tell the her about the life we left behind and what we sought to achieve as witchers.
It basically turned into a rehab therapy session.
Gunhild also told us a bit about herself, and how her own Trial of the Grasses had gone wrong, leaving her as the only witcher aging normally and having to deal with aching joints. Then, she told us to pick a name for our group.
And that's where real-life Michelle began influencing Stella…
The very first suggestion was something along the lines of this: "What about that bird we heard earlier? An owl, wasn't it?"
And Stella very vehemently protested: "We're not naming ourselves after owls. Only sorcerers like owls."
Because I am not, I repeat, I am not going all the way to Poland to pretend to be someone else and still be end up being known as the "owl girl".
I also vetoed the next suggestions which were all bird-related. In the end Gunhild told us that if we didn't make a decision, she would pick a name and it would be an embarrassing one. We eventually ended up on "the Phoenixes", and I was willing to accept a bird name if it was at least a bird that was on fire. We ended up playing a bit with the phoenix analogy and in the end we decided on "Ashes" for our name.
And that's how my character ended up hating birds in general, and owls in particular.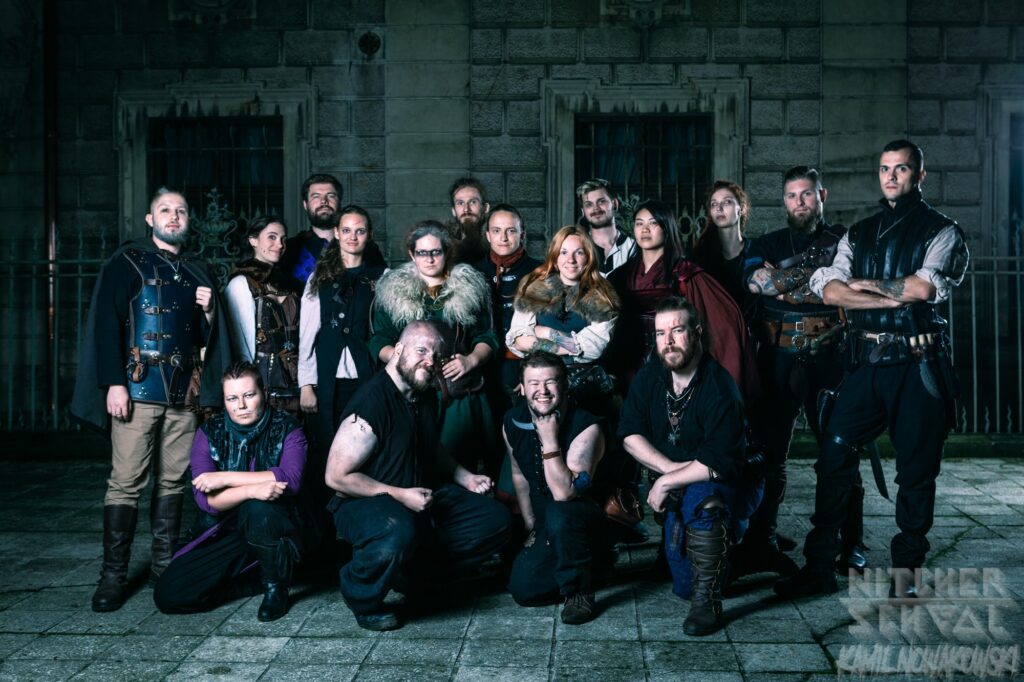 Plotting Murder and Other Crimes
I ran into my fellow Cats, Adrian and Marissa, after the Ashes got back from the forest.
I told them how my group basically went to have a tea party and talk about our feelings, and when asked about his group, Adrian went, "Oh, I stabbed an adept."
Apparently, Adrian was assigned Gedymin as a tutor…
But Marissa had other worries. Earlier, she had run into someone from her past. Someone she had been sure she had killed, and as such, she was slightly miffed at seeing him alive and well in Kaer Tiele. She wasn't willing to tell us a lot about why she had tried to kill him, but she did say that he had tried to kill her first.
And she was very determined to make another stab at killing him for good.
Now, Cats are not usually the kind to help others if they don't get anything out of it. Unless we're taking pranks or revenge. So Adrian and Stella pledged their help to Marissa, though we thought that straight up killing a man in the middle of the school we had been sent to as ambassadors might not be the best approach. We did a bit of brainstorming, agreeing that we wanted him discredited at least. I eventually suggested a plan:
"Let's ask Master Reinicke what to do."
Everyone who participated in season 4 will know this incarnation of Reinicke. You can not avoid noticing Reinicke. Because Reinicke knows how to cause trouble.
Because Reinicke was the only Cat Master at the Wolf School, having left Kaer Marter 6 months earlier, we as Cats had a certain connection with him. But that hadn't prevented him from being dismissive with us every time one of us went to him with what the Wolves would probably call "reasonable" matters. But as soon as Marissa went to him for ideas for revenge, he was all too happy to help.
Reinicke's suggestion was to get the guy in question, a sergeant of the Blue Stripes, kicked out of his unit. He also had an idea on how to do it and said we could try framing him for rape.
Once again, the teachers at Kaer Tiele are model citizens.
Marissa informed Adrian and Stella of the plan. We weren't totally sold on it, but Marissa assured us that it was exactly what he deserved. Adrian did suggest to just spike the guy's drink with enough Fisstech to send him on a rampage, but Marissa wanted to keep that as a backup plan. In the end, we assured her we would help with whatever she found necessary, and she went off to recruit some help for our plot.
Werewolf on the Loose
As it was getting a little cold, I went upstairs to my room to put on warmer clothes and when I got back down the first thing I heard was someone in the corridor saying, "The princess is a fucking werewolf!"
Remember the girl Philippa Eilhart was dragging around on a chain? Well, apparently she was an illegimate Redanian princess and a werewolf on top of that. She had also very much escaped from her guards and was at that moment wreaking havoc in the forest.
I didn't get to join the groups going to the forest to hunt her down. Instead I was stuck patrolling the perimeter, in case the werewolf got close to the castle. That would all have been well and good, if we hadn't been ordered not to harm her.
I tried to explain to the others that at Kaer Marter they told us how to kill werewolves, and that I had no idea how to contain one without hurting it. Not hurting monsters is just not something Cat School witchers have a habit of considering.
In the end, the patrol wasn't needed, because we never saw the werewolf. We did, however, see the hunting parties carrying their wounded and dead back, and later them bringing back the princess in her human form, the poor girl weeping and hysterical.
Accepting that I wasn't going to get to kill something, I eventually went to bed.
Classes Begin
The next morning, after we were woken up by a Master with powerful lungs yelling outside our rooms, I spent enough time doing my stupid veiny makeup that I would have been late to morning workout. Knowing that he expected his Cats to take their physical training very seriously (he would be fine with us ditching Signs or Monster Knowledge, but Cats are expected to be expert fighters) I was a little afraid of what Reinicke would do to me if he saw me late to the morning workout. So I just skipped it altogether and decided to stay clear of him all day.
But I was so focused on what Reinicke would think that I had forgotten I had another tutor now, and I wasn't prepared when Master Gunhild cornered me in the dining hall and confronted me about skipping the workout. It's a good thing that Stella as a Cat isn't one to feel shame, because Gunhild fought dirty and, instead of getting angry, she just showed disappointment.
Michelle wanted to hang her head in shame; Stella wanted breakfast.
She did, however, win back a bit of Gunhild's approval when she was early to her first class. As Master Gunhild was a bit of a mother hen to her adepts, she wanted to sit in on many of our classes, and our first class was Monster Knowledge with Master Ylia.
It was a good thing she was there as well, because Master Ylia was epically late and we might all have left if we hadn't been chatting with our new witcher mom.
When Ylia, a very pretty and cheery Wolf Master, finally did arrive, we started out the lesson by discussing what qualifies as a monster, and if a monster should always be killed, no matter the circumstances. Once again, Stella had a bit of a hard time figuring out the Wolves' approach to witchering.
The Cats' philosophy is a bit more like this: If someone will pay you for killing a monster, you kill the monster. End of story.
But Master Ylia is quite a lovely person, so I did my best to keep an open mind during her lesson. After the theoretical discussion, we went to the alchemy lab (which also happens to contain the entrance to the crypt) and Ylia went inside to see if "their guest was still angry". While waiting outside for her to return, one member of the Ashes, Alastair (who, together with his pal Crowley, had quickly earned the nickname "the Idiots") turned to Victor (a guy who had been kept as a personal plaything by a vampire until rescued by witchers) and went: "15 orens if you hug whatever's in there."
Victor agreed worryingly easily.
Ylia returned and let us down into the crypt to meet the lovely lady kept imprisoned by an Yrden sign down there.
And that's when we got our lesson on grave hags.
Since I don't have any pictures from the game yet, I urge anyone not familiar with the Witcher games to go google what Victor agreed to cuddle with.
After discussing grave hags and other necrophages, Ylia asked if anyone wanted to try and approach the grave hag, considering how she had been perfectly docile during the lesson. Victor, of course, had already volunteered, so he stepped into the circle of the Yrden and immediately had to be saved by the rest of us, but everyone, including Alastair, agreed that the brutal assault counted as a hug.
Promising us that we were now going to have some fun, Ylia took us into the forest. There we met another humanoid lady – though this one was slightly more pleasing to the eyes.
When you got a beautiful, lightly-dressed woman, you're willing to overlook the horns and the hooves.
This was quite obviously a succubus, but unlike the grave hag, she had made a deal with the witchers at Kaer Tiele, and was helping out with our lessons voluntarily. She was very accomodating, answering all our questions, and she was also happy to help when Ylia suggested a demonstration.
Halvar, another Cat, was picked to try and resist the succubus's charm and the Idiots were told to restrain him if he moved.
To be fair to Halvar, he did last almost 30 seconds before he had to be physically restrained, but he did have to be taken away from the class for a while after. Fortunately (or maybe unfortunately, if you consider Halvar's pride), Grandmaster Svar had come to supervise the class and took him aside, telling him to think about trees.
Of course, at a distance, half of us heard it as "Think about beef" and spent a lot of time being confused…
After we had another – very eager – female Ashes member trying and failing to withstand the succubus's charm, we went back and moved on to our first Fencing class.
Now, I have been dealing with a mildly sprained wrist for some time now, so I had been fearing fencing class, but I figured I would be okay because it would just be LARP swords.
Guess who were given steel training swords this time…?
The teacher for this class was Master Edwin. My first impression was that he was a good and fair teacher, and I sort of stand by that statement even after I was certain he would send me to the hospital before class was over.
I enjoyed the class, even though I got a bit of performance anxiety. The first thing anyone says about the Cat School is that their witchers are experts at fencing (unless you're Master Dirk, in which case the first thing he says is, "Cats are fucked up"), so I didn't want to embarrass myself.
It's always challenging when Stella is supposed to be good at something Michelle sucks at.
It was a lot different to the Fencing class I took in my last game. Not only were we just using LARP swords then, we also mostly did footwork. This time, using blunt steel swords, we were paired up and did a lot of parrying and attempts at disarming each other. We also learned how to jump a blade if someone went for our legs, and it's always fun to be flashy as fuck when fighting with a sword.
So why was I afraid of being sent to the hospital, you might ask?
Well, I wasn't angling my sword right when parrying, so Master Edwin took it upon himself to show me. It was all calm and slow at first… but then I started getting the hang of it, and Edwin just started raining attacks down on my head, forcing me to rapidly block each strike or get bashed in the skull with rod of steel.
I mean… I know the instructors are professionals, and I have to believe he would somehow be able to stop himself from hurting me if I fucked up a parry, but it was honestly hard to imagine how he would do so. Luckily, I didn't fuck up my parries and avoided adding a concussion to my sprained wrist (which, at that point, was killing me).
During the lunch break, I did some light plotting with Marissa, and then it was off to Alchemy class.
To the Cats' luck, we had the sorcerer, Cosimo Malaspina, as our teacher, though he insisted that he was not actually an Alchemy teacher and that his speciality was witcher mutagens. He did teach us to make a Swallow potion, and demonstrated the effects of the Cat potion (some pretty cool special effects going on there), but the most interesting part of the lesson was him telling us about the motivation behind creating witchers (or as he refered to us, 'monsters') in the first place. He called us his "favorite mistake", because his intention had been to improve the human race, and, while he succeeded in making his subjects stronger and less prone to erratic emotions, they became sterile and as such he couldn't give those gifts to all of mankind without wiping out their species.
…Cosimo is basically a mad eugenics scientist.
There was also the brief interlude when Master Dirk, the Signs teacher, visited the alchemy lab. I can't quite remember what prompted the conversation, but it ended with Cosimo having to explain to Dirk why having sex with a werewolf is a bad idea. Not to mention bestiality.
Master Dirk appeared unconcerned (once again showcasing the high standards of the Kaer Tiele faculty).
As the lesson ended, the Cats asked Cosimo if he wanted to come to Kaer Marter to help them fix their mutagens and he said he would be more than happy to, and agreed to discuss it with us later. We agreed to meet up the next day.
But more on that later…
(The people reading who were there are cackling right now.)
The last class of the day was Archery for my group. Considering archery is something I actually know how to do, it's the class I look forward to the most.
Less so with a sprained wrist, true, but I managed.
Our archery teacher was Master Toril, a small woman who manages to be rather terrifying if you're late or messes around in her class. But she did let us shoot arrows at the dick of a Master who yells at us every single time we're gathered in the courtyard, Harval (who in my other season plays Master Niall, the most good-natured guy ever) at the end of the lesson, so she did endear herself to me.
Time for Monster Hunting
After dinner, we returned to Marissa's plotting which had hit a bit of a snag. The other Cats got involved at this point and, after a few of us pointed out that perhaps we shouldn't be plotting murder in a large group in the middle of the tavern, we relocated to the courtyard where we got absolutely nowhere.
The Cats eventually dispersed and went to join the rest of the Wolf School witchers for the nightly monster hunt. Master Gunhild rounded up the Ashes and gave us a pep talk.
Which, for the Skelliger, apparently involved handing out dried fish to all of us…
After dutifully eating our smelly treat, the Ashes were split into two groups, one going with Gunhild, the other with Master Reinicke, and I was left holding a fish tail while we waited to be sent off (and mentally cursing Kaer Tiele's lack of trash cans).
Master Gunhild's group was one of the first to depart, so once I got rid of my fish tail and Gunhild acquired a torch, we were on our way.
Walking around in a dark forest when you know you can be attacked at any moment is always nerve-wracking, but we held it together pretty well. The first encounter involved three drowners and – despite our formation being pretty awful – we made it through without injuries to our team. Next, we came by a strange man sitting by a table in the middle of the forest. Because of the horns and the hooves our first thought was "incubus", but the creature was severely insulted and made us apologize when someone voiced said thought. A closer look revealed furry legs as well, so we thought he must be a satyr, but apparently "satyrs are just losers always trying to steal his look". He made us solve three riddles and eventually told us he was a sylvan. He also offered to play a game, consisting of removing a number of coins from a pile and winning by not being the last one to remove a coin, with one of us. One of the others had already sat down at the table before I felt the need to ask what the stakes were (something I really feel anyone should have asked before agreeing) and he told me we could ask him one question if we won.
I still didn't trust him at all, but at least I wasn't the one playing.
The one of us playing won the game, and none of us had any idea what to ask him. We settled on, "What's the difference between a satyr and a sylvan?" Gunhild thought it was a bit silly to ask a wise, 200-year old creature something you could have asked in Monster Knowledge class. But as we would later find out that Alastair (who had gone with Reinicke) had asked, "Can chickens swim?"… I feel it could have been worse.
We returned to the castle and met Master Gregor outside the alchemy lab.
Now, I don't know what Master Gregor's deal is. He kinda looks and acts like the guide on a ghost walk, and I never once saw him show the slightest hint of emotion, but compared to many of the other Masters, he seems like a decent guy. He's a bit scary, but only because you sort of expect to find him lurking in dark corners, whereas someone like Master Meinard is scary because he always looks like he's planning to cut you open and figure out how your insides work.
Anyway, Master Gregor told us we were going to discover the true story of Kaer Tiele before leading us up into a part of the castle none of us had ever been to. He gave us a Cat potion before opening the door to a large room and ushering us inside, telling us to be ready.
And that's when we were attacked by wraiths.
I can't even begin to explain how much I hate fighting in dark rooms, so I made sure to stay back when the rest of my group went on the offensive. Unfortunately, that also meant that I was not really sure what was going on at that time, and only got the full story in bits and pieces during the following day. All I saw were my companions taking down the screaming wraiths, before we all heard a voice yell something about making sure to kill the baby.
Of course I would later find out that what we witnessed was the violent story of how Grandmaster Svar and the other original witchers of Kaer Tiele came to acquire the castle by murdering the original baron and his family. More on that later.
This time we didn't make it out without injuries, but we did make it out. Outside in the courtyard, Victor, who had barely held it together, succumbed to his injuries, and we had to carry him to the tavern. When we got him into a chair we quickly discovered that his physical injuries weren't the real problem. I guess it's not really a surprise to discover that you get PTSD from being held captive by vampires for god knows how long, but the wraiths had brought forth some bad memories, and the poor guy was quickly losing his grip on reality.
And really, you had to admire the acting skills going on here. I was just about ready to admit him to the insane asylum.
Once we had gotten Victor to stop laughing hysterically and creeping everybody out, we all got settled in front of the fire in the tavern and Gunhild went to buy all of us drinks, simultaneously impressing us by carrying like eight beers in her hands at once.
Skellige skills, y'all.
(Also, later at the afterparty, I was told this was a crossover beer in my case, because I had tried so very hard to get Corinne Dennetz to buy me a beer in season 2. Success!)
While in the tavern, I ended up striking up a conversation with Philippa Eilhart, of all people. Considering Philippa is a cold-hearted bitch who likes to turn into an owl, you would think this was a recipe for disaster, but she seemed to take a shine to Stella, who shared many of her own views. And don't get me wrong, Stella knew perfectly well that Philippa wasn't to be trusted, but she also knew that you keep your enemies close (and preferably unaware of the fact that you know they're up to no good).
Philippa was deeply frustrated at being sent off to play babysitter to some cursed princess, and she was pleased to hear that Stella, unlike so many of the Wolf School witchers, didn't believe trying to help the princess instead of killing her was the best cause of action.
Eventually the Ashes found a more secluded corner, free of sorceresses, and I got to know my group a bit better. I was telling one of them, Sigi, more about the Cat School, and I went, "Never trust a Cat. Take it from me" and she straight up told me she didn't believe me. I had to ask her if she was honestly saying she didn't trust me when I was telling her not to trust me.
Wolves… Cue eyeroll
Morning Workout and Other Punishments
The next day, I was once again late to morning workout, but knowing that I had Master Reinicke for fencing later that day, I knew I couldn't skip. While I was standing by the door to the courtyard, hesitating, the castle's steward, Bertram, showed up and asked me if anything was wrong. I decided to go with honesty and saying that I was running late and I was slightly worried about what Master Reinicke would do to me. Bertram, being a generally nice guy, tried to reassure me:
"Oh, Reinicke won't do a thing. It's Dagna you need to worry about."
Master Dagna wasn't anywhere to be seen, but Master Toril swooped in as soon as I stepped through the door. Bertram, who had followed me outside, immediately stepped forward and, though I couldn't hear exactly what he told her as I was busy hurrying to get into line and join the workout, it sounded very much like he told her that I had just been helping him with something in the kitchen. Either way, I, unlike all the late adepts that came after me, wasn't yelled at or made to do extra pushups, and Bertram rose considerably in Stella's estimation.
It might have been a small gesture, but anyone who's willing to lie for you without having a reason to earns himself some of Stella's rare Cat respect.
…Which really just made the scene after the workout so much worse.
I had heard rumors that Bertram was being blamed for the princess escaping the first night, but I hadn't thought much more of it before Grandmaster Svar stepped in front of the assembled adepts and started talking about punishment. Then Bertram, Gedymin (who apparently had done some shit as well) and a row of adepts who (for some reason) had offered to share the punishment were called up in front of the crowd and told to take off their shirts.
Each of the adepts were lashed once, Gedymin five times and poor Bertram (who, unlike Gedymin, was neither a witcher nor probably numb from Fisstech) got six, as far as I could see.
I never had the chance to find out exactly what Bertram did that resulted in the werewolf escaping, but as far as I can tell it was an accident. And no matter what, I find it rather unfair that – in a castle filled with witchers, sorcerers and soldiers – you put the responsibility to keep a werewolf contained on the one person who doesn't have the training to deal with such shit.
Seriously, Philippa, you can't just drag a werewolf into someone else's castle and dump it on the servants!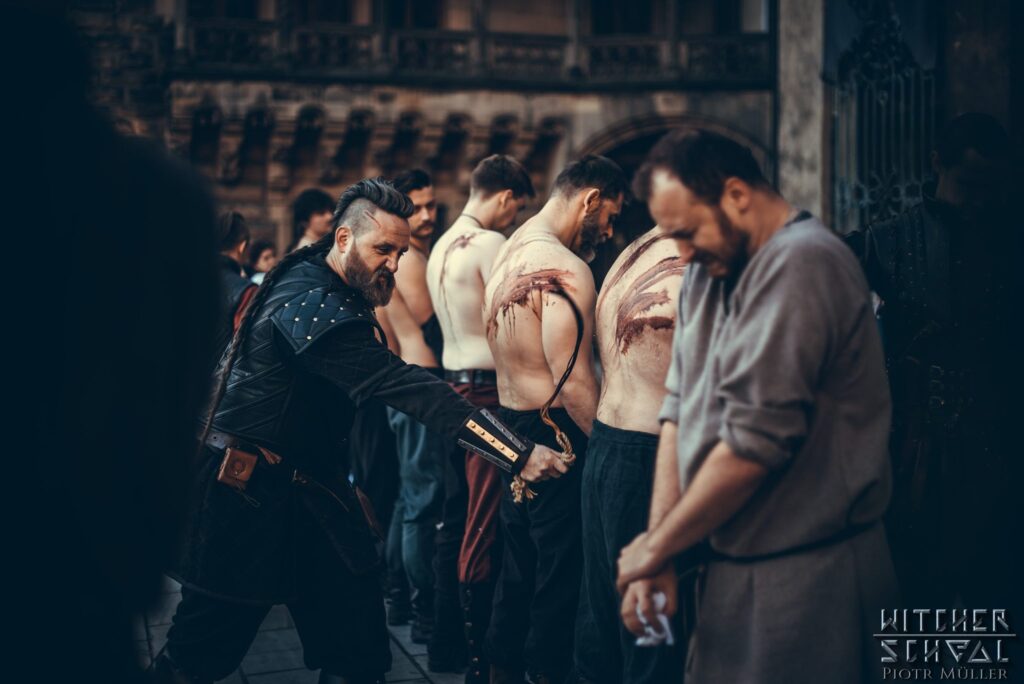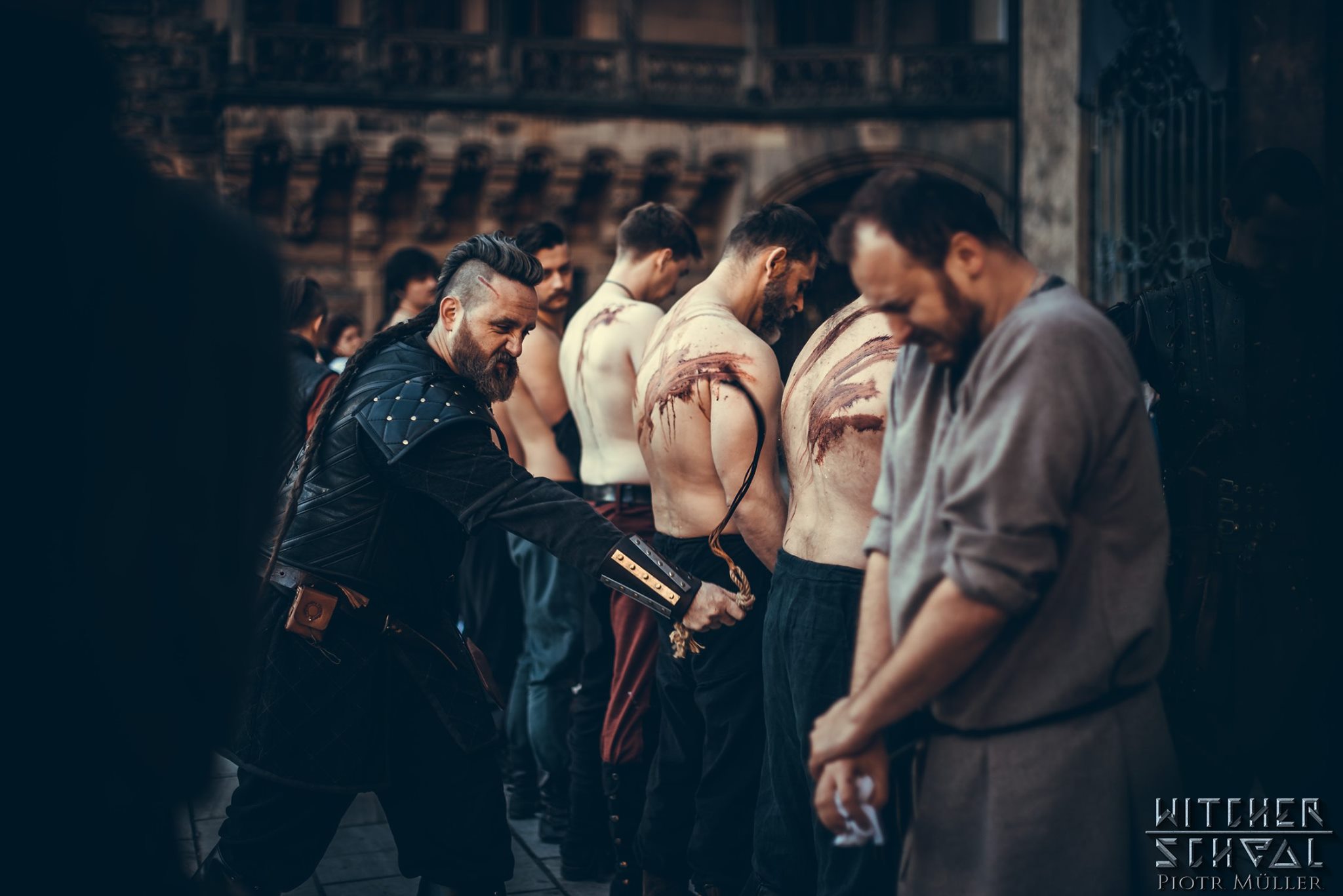 Morning Classes and Morning Murders
My first lesson of the day was Craft with Master Ian. Which was nice, because it seemed like a nice, chill thing to just sit inside in a warm room and make leather equipment. And it was…
Mostly.
We got seated in the Grandmaster's suite, given all the materials we needed, and told we could make either a pouch or a potion holder. I went with the potion holder, and we all set to work, cutting leather and hammering in rivets, everything proceeding perfectly peacefully until the moment a servant stormed into the room, yelling "Where's the Grandmaster?!"
I shrugged and said, "Well, not here", and the servant yelled "Malaspina's dead!", then rushed out without another word.
And then we all kind of forgot our leatherwork for a moment.
A few of us rushed out on the balcony overlooking the courtyard together with Master Ian, trying to see if anything was going on down there, while the Idiots went after the frantic servant. They later came back, telling us about how Cosimo's brain had been splattered all across the walls.
I might be a slightly terrible person, because I admit that my first thought was, "Fuck! Now I have to keep doing this stupid makeup…"
But hey, at least the Cats' schedule cleared up a bit, right?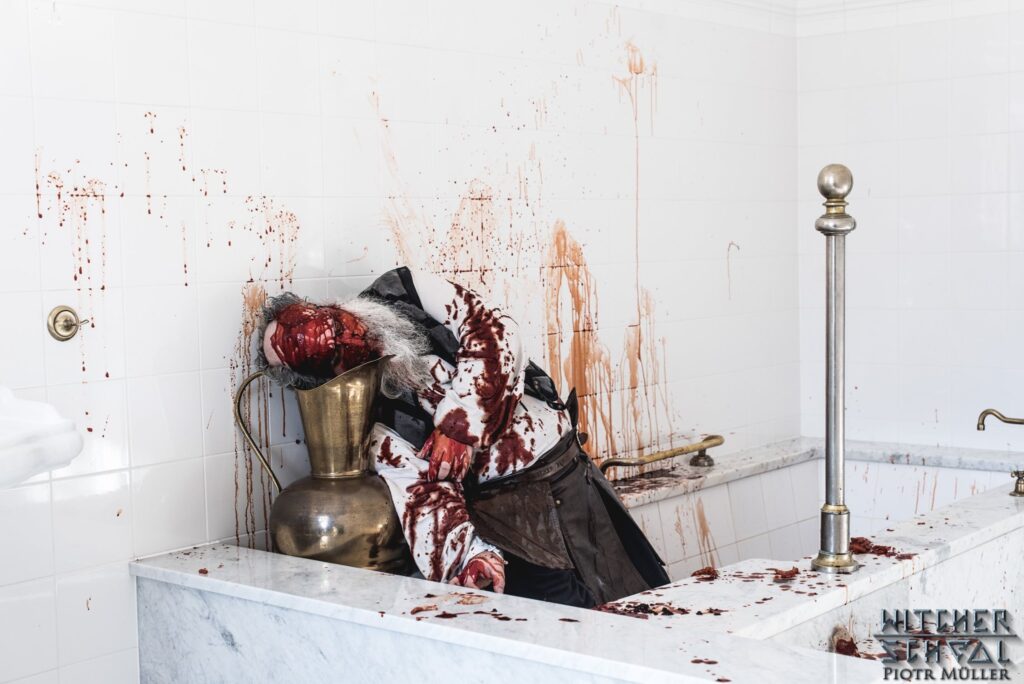 Not really knowing what else to do, we finished up our class, and then a large number of the post-Trial adepts met up with Grandmaster Svar, who asked for volunteers to help the Masters with the Trials later that night. After we agreed, we made him tell us a bit more about the Cosimo incident. Apparently, the mage had received a package and then left to go open it. Whatever was inside blew his head off.
Honestly, not a good day for the Kaer Tiele servants, if I do say so. At least a simple stabbing doesn't take that long to clean up after.
Anyway, we sorted ourselves into groups, so we knew who would be going with Master Ylia, Master Dirk and Master Eckhard respectively during the Trials. I ended up in Master Dirk's group, a man with whom my only experience at that moment was him talking about banging werewolves.
Good thing I had Master Bestiality for my Signs class that afternoon, right?
But first I had Survival with Master "Four Lines!" Harlav. I'm not sure I would call it a class, because he literally taught us nothing. He asked us to make a fire, and then a shelter. If we sucked at it, it was our problem.
After lunch, the Cats were hanging out in the courtyard. Reinicke had pretty much ignored us the moment he laid eyes on a cup of coffee, but we eyed him curiously when we saw him leaned over it, saying "Fuck off. Fuck off. Fuck off" over and over.
"Is Master Reinicke arguing with his coffee?"
It turned out that a bee had gotten into his mug, but it says something about Reinicke's character that this wasn't the first explanation that came to mind.
Next up was Signs, which was a class I had originally planned to skip. But since the mage I had a meeting with went and got himself blown up, I figured I might as well go, since I had nothing better to do.
Master Dirk ("Just call me Dirk") led us out into the forest and gave the new adepts their witcher medallions.
Then we were attacked by ladybugs.
Seriously, they were everywhere. I didn't even know ladybugs came in swarms.
Once we had gotten all the ladybugs out of our eyes and ears, we practiced the Quen sign, before Dirk led the new adepts away from the group one-by-one to practice Aard while the rest of us watched from afar. And, as always happens when you leave a group of people with nothing to do, we started talking among ourselves.
I lost count of how many conversations I had about bestiality during this game, but apparently Cosimo making it clear that a werewolf was likely to change by accident during intercourse would not deter these guys, and I can't believe that "prepare arguments for why bestiality is not cool" is now on my to-do list for episode 2… but there it is.
Luckily, we got some entertainment when it was Alastair's turn to practice Aard.
Apparently, his character is afraid of magic, so not only did he have to almost be dragged over to the target to practice, he also soon stormed away while, in his wonderfully thick Cockney accent, going "It's not natural! It's fucking witchcraft, it is!" and looking like he was about to burst into tears as he ran out of the class. I only just had time to shout after him, "That's why we're called WITCHERS" before he was gone and we didn't see him again for a long time.
Dirk made us move on, so we could put what we learned into practice. At Witcher School, this means leading us to a captured ghoul, making us hand over all our weapons, telling us to trap the ghoul again, and then setting it loose on us.
Health and safety isn't a big concern at Kaer Tiele.
When the ghoul was successfully forced back and restrained with Yrden, it was time for our very last class – Fencing with Master Reinicke.
This was something I knew would be interesting. Because while everyone who had been within a 50 meters radius of Reinicke knew he was someone who loved telling stories and doing pranks, the Cat School witchers, at least, knew that he got extremely serious about fencing.
As evidenced when Alastair, looking like he had sought refuge from the evil witchcraft inside the tavern, stumbled into class late and Reinicke beat the absolute shit out of him.
However, it was not long after that Bertram marched into the training field, very firmly informing Reinicke that he would appreciate it if he would keep his opinions about Grandmaster Svar to himself and that he was having his "wall art" removed.
Reinicke asked him how he could know it was him, and Bertram's voice was nearly dripping with contempt when he told him that, as the steward of Kaer Tiele, he knew things, and that he, Reinicke, was now banned from coal. Bertram also informed him that he would post a guard with a crossbow.
Bertram was barely out of earshot before Reinicke started giggling like a child and told us that he drew a dick on the wall.
Before we proceeded with class, Reinicke also made a point out of telling the new adepts that he didn't want to teach anyone how to be a Cat School witcher, so they better stop asking. He told them how his last words to Grandmaster Astrid before leaving had been, "I would rather suck Gedymin's dick for free than return to Kaer Marter".
We didn't even have to ask for him to inform us that the price for sucking Gedymin's dick would be 3000 orens.
Ahem… We did actually also do some fencing. This time we used LARP swords, which was a good thing, because Reinicke cared less about correct footwork and more about us managing to hit each other.
We had to take another short break when Gedymin approached the class (thankfully not having heard the previous conversation) with the succubus in tow. We patiently waited while our fencing master had a conversation with the succubus, while Gedymin stood there grinning like a hyena, until finally they left and Reinicke told us to wait for a moment while his blood returned to his head. Then Reinicke proceeded to tell us about a bet he made once back at Kaer Marter (which my character would obviously know about, but which was news to me) where they had encountered a succubus and Reinicke told one of the other Masters that he would bang her once for every adept she managed to seduce, fully believing that trained witchers would be able to withstand her.
But as etablished, Cat School witchers are arseholes, so the Master told all the adepts about the bet and they all willingly succumbed to the succubus's charms, forcing Reinicke to sleep with her forty times and nearly dying as a result. And, apparently, that very same succubus was the one we were introduced to during Monster Knowledge, and someone had told Gedymin the story.
I love how these people are all such bastards.
Wolf School Drama
I mentioned how, apparently, Grandmaster Svar had been involved in killing the original owners of Kaer Tiele, right?
It seems that, while it had always been known that the witchers had killed the baron and his family, the excuse for doing it has not been… entirely truthful. The baron had been accused of necromancy, but this seems not to have been true.
This was all brought up after the surviving daughter of the baron had come to Kaer Tiele, disguised as a bard, and now wanted justice for her family.
It also appeared that Svar had killed the former Grandmaster, Raven, many years earlier (instead of it being an accident during a monster hunt). Not sure how this was revealed, but Svar suddenly had a lot of shady shit to explain.
Master Meinard, Cosimo's apprentice, was also charged with being involved in the whole "slaughtering a family to take over their castle"-debacle.
Master Meinard is pretty damn terrifying, so I'm not sure anyone was all that surprised there.
All this was a bit much to take, even for witchers, so every witcher at Kaer Tiele was called to a Gathering to vote on the fate of Svar and Meinard. Only the Cat School witchers, being a delegation from another school, were allowed to withstand from voting if they so wished.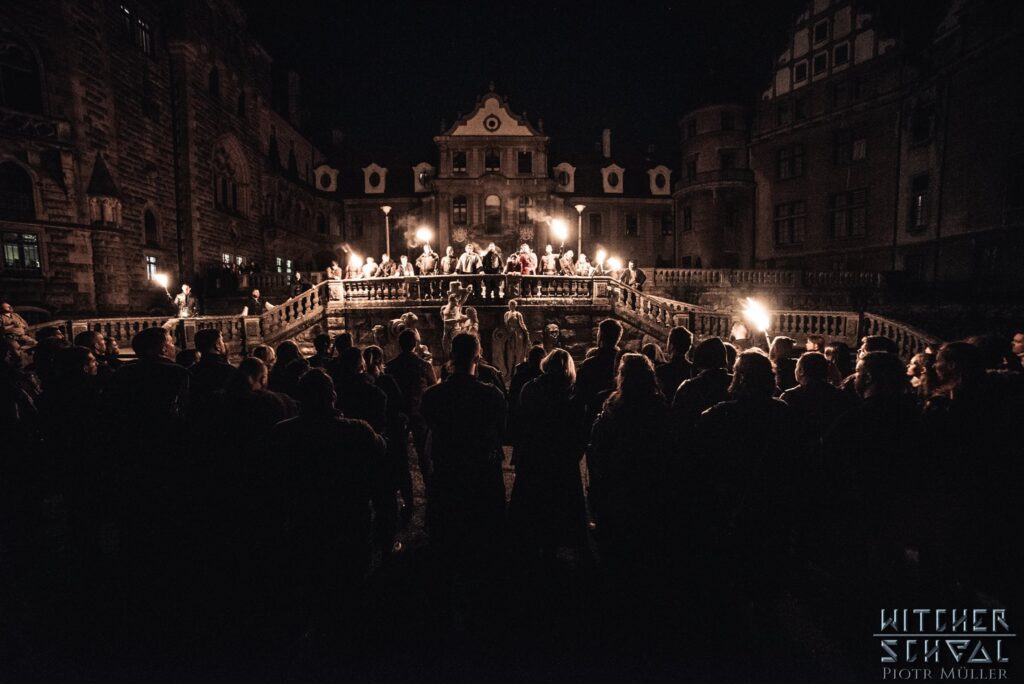 Every Master who wished to speak at the Gathering got the chance to do so. The baron's daughter, Sorena, didn't actually have the right to speak, as she wasn't a witcher, but Master Dirk allowed her to speak in his stead. Several of the other Masters spoke either for or against exiling Svar and Meinard, while both of the accused got to speak as well, before the voting started.
Every witcher was told to stand in one of two lines, symbolizing either letting Svar remain Grandmaster, or exiling both him and Meinard from Kaer Tiele.
All but one of the Cat witchers stood steadfastly by Master Reinicke's side, refusing to get involved in Wolf School business. Reinicke himself hadn't wanted to vote, and had thought he might get out of it by claiming his status as a Cat, but as a Master at Kaer Tiele he was not actually allowed to refuse when Svar yelled at him to "make a choice, you bastard!"'
(I might be paraphrasing a bit here, but even with my failing memory, I feel like I'm conveying the mood…)
There was even more drama when Dirk, who had supported Sorena's right to speak, walked towards Svar's line and, when someone yelled it was the wrong line, yelled back, "I know what I'm doing!"
It's not often it's quiet enough around the witchers to hear everyone gasp.
In the end, the supporters for Svar outnumbered the rest by only 7 votes.
(A bit funny, considering there were exactly 8 Cat witchers staying neutral.)
So Svar got to stay on as Grandmaster, Meinard got to keep performing shady medical procedures on adepts, and what do Svar do…?
He stands up in front of everyone and informs them that he has decided to leave Kaer Tiele on his own volition.
Goddamnit, dude.
The Trials (or "When Dirk's Group Just Started Fucking with Adepts")
Now that all the drama was over with, the Gathering dissolved and everyone got ready for the Trials. I went with Dirk and the 5 other witchers who had volunteered to assist him. One of us had to borrow a sword from the guy who had two, but we were all more or less ready to go. The girl who borrowed the sword went to do something and was supposed to come back quickly, but by the time we were told to get going, we still hadn't seen her, so we went out into the forest without her.
(After about an hour, we turned to the guy who had lent her a sword, and said, "I think she robbed you.")
Dirk had been put in charge of the second of the Trials the new adepts had to go through before they were to undergo the Trial of the Grasses. Our station was at the bridge at the edge of the forest. The mood on the trip there was pretty somber, Dirk being rather gloomy about his actions during the Gathering, but it soon got better once we arrived at the bridge. Dirk found a great outlet for his angst in what I have dubbed his "Emo Svar" impression, which consisted mostly of putting on a deep, grave voice and going, "I am Grandmaster Svar. I must send myself into exile."
He did it for at least 3 hours, and it somehow never stopped being funny.
The Trial we were going to pose to the adepts involved them playing the "Bridge game". In theory, it's quite simple:
You got two groups of equal size. All but one of them has a sword. They're placed on either side of a bridge and in the middle of the bridge is a sack with a chain in it. The goal is to grab the chain and get it to the opposite side of the bridge. Only the one not carrying a sword is allowed to grab the chain. If any player is hit with a weapon by a player of the opposing team, they have to stop what they're doing and do 10 pushups/squats/sit-ups etc.
We introduced another rule that said that we were going to be walking around the bridge as well and if we booped any player on the head with the flat of our sword, they also had to stop and do whatever we told them.
For the first couple of groups, we just made them do push-ups or sit-ups. Or, that means, I tried to get them to do sit-ups, but apparently every single adept thinks "sit-ups" means "squats".
Jeez, what are they teaching people at this school…?
It didn't take us long to get bored with this, however. While waiting for the next group, we looked at each other and went, "We should make them sing."
And here's why I'm glad I ended up in Dirk's group, because I don't think any other Master would have allowed the chaos we caused for the next few hours.
Sure, for the next group, we just made them sing. And I must say, I'm impressed that none of them hesitated, even though it would be fair to be confused when you're booped on the head with a sword and someone demands that you sing. But they obeyed on the spot. There were several renditions of "What do you do with a drunken witcher?" and many going "La la la la la la", but my favorites were the ones that went "I don't know any songs, so I'm just going to do this…" and "I hate this stupid game…", but still sang it flawlessly to a melody.
Of course, seeing how easily we got them to sing… we had to keep going, right?
Obviously we made the next group dance. And then that one left, I looked at the others and said, "They're Wolf adepts… We should make them howl at the moon."
It was a beautiful full moon as well, and it was far more beautiful when we got 9 adepts to howl at it all at the same time, and no one questioned their orders.
Oh, and one of my favorite moments of the whole game was when we later heard weird sounds from the direction of the third Trial and we looked at each other and went, "Wait… Are they still howling? They left here ages ago."
That group now has a special place in my heart, because we were all laughing hysterically while I'm sure everyone up at the castle were so very confused.
When we started running out of ideas, we began asking the Masters accompanying each group what they wanted us to make them do.
Once we made them act like chickens.
Once we made them hiss like cats.
Once we told them to act like princesses, and one of them immediately went, "Servant, where is my horse?! I'm tired of this place!" and that girl got to join the howling group in my heart.
Once, when Master Gregor came around, our only instruction was, "Gregor likes manticores", and the following confused conversation ensued:
"How do you act like a manticore?"
"I have no idea. Just tell the adepts to do it and let's see what they come up with."
None of the adepts imitated the same kind of animal, so I think we might need a talk with the Monster Knowledge teachers…
But really, whatever we told them to do, they just did it. Stella might have made a lot of dog jokes about the Wolf School witchers, but she did honestly not expect them to be this obedient.
(Honestly, we were at the 9th group before someone thought to ask what the point of the exercise was. We just told them not to ask questions…)
This all took place over maybe 3 or 4 hours, so we spent a lot of time between groups just waiting on a dark bridge… but I can't remember when I last had this much fun. I'm not sure I can repeat most of the insane jokes we did there, because they were so completely inappropiate that if there had been any sensible people around, someone would have stopped us. Marissa (who was also part of this group) and I told Dirk the story of how we had tried to capture a Barghest on our way from Kaer Marter to Kaer Tiele, to give it as a "present" to the Wolf School witchers, but that it had gotten loose in a tavern and we had to put it down.
Master Dirk was sorely disappointed that he didn't get a Barghest, and blamed us for making him sad.
A long line of Svar impressions cheered all of us up greatly, though, until we saw a silhouette in the dark approaching us.
"Oh shit… We summoned him."
I'm still not quite sure why the Grandmaster decided to come out there himself to ask if we had everything we needed, but we managed to keep it together until he was halfway back to the castle before we started laughing again.
It was almost 1 in the morning before we made it back to the castle. I stayed around the tavern, singing along to the bards' songs and congratulating each of the Ashes adepts as they made it out alive from the Trial of the Grasses. I admit I also once got together with someone from Dirk's group and booped a random adept on the head to see if she would howl if we told her to (she did). At one point, the horn sounded, calling us into the courtyard for the final scene of the LARP. We all lined up before the Grandmaster and he started talking about the investigation into the death of Cosimo Malaspina, and accused Master Vester, the alchemy teacher with speciality in witcher bombs and a strained relationship with the mage, of being behind the explosion. Vester, understandably, demanded proof, at which point one of the tutors, Jodok, stepped forward and confessed to killing Cosimo.
There was a brief fight, then Jodok took an Igni to the chest, and died.
And that's how the episode ended.
The Afterparty and the Day After
This time I was actually not so exhausted that I couldn't take part in the afterparty, so I went around and hugged all the people who had only moments before been tough, unapproachable witchers. There were a few scuffles trying to beat the other groups to the photobooth, but I did manage to get a picture with both the Ashes and the Cat School witchers, so I have something to anxiously look forward to now that the post-LARP blues are starting to set in.
I ended up going to bed at 5 am, which is rather impressive for a person who usually gets testy if she gets past her 21.30 bedtime.
There's not much to say about the following day, as it mostly consisted of everyone going home, but the conversation I had to Marissa and Adrian's real life counterparts made my day. Adrian, the drug-using Cat I had spent 3 days planning murder and so many other horrible crimes with, were grieving the thought of having to go to work at 7 am the next day.
"What do you do for a living?"
"Oh, I'm a policeman."
---
That's it (she says, after writing a blog post a sixth of the length of her first book).
I really do hope I'll get some pictures soon to add to this ridiculous wall of text, but I don't dare get my hopes up.
Also, I'm not entirely sure why I'm still writing, because there's no way anyone got to the end of this shit.
Oh, one more thing:
I forgot to add this part, and right now I can't be assed to rewrite anything to make it fit, so I'll just shove it in here: Victor agreed on a dare to use the pickup line "I have never been with a human before, and I don't want to die without trying it" on Master Meinard.
He didn't get the chance in episode 1, but Stella and Halvar are fucking holding him to it.
---
Photos by Piotr Müller and Kamil Nowakowski.