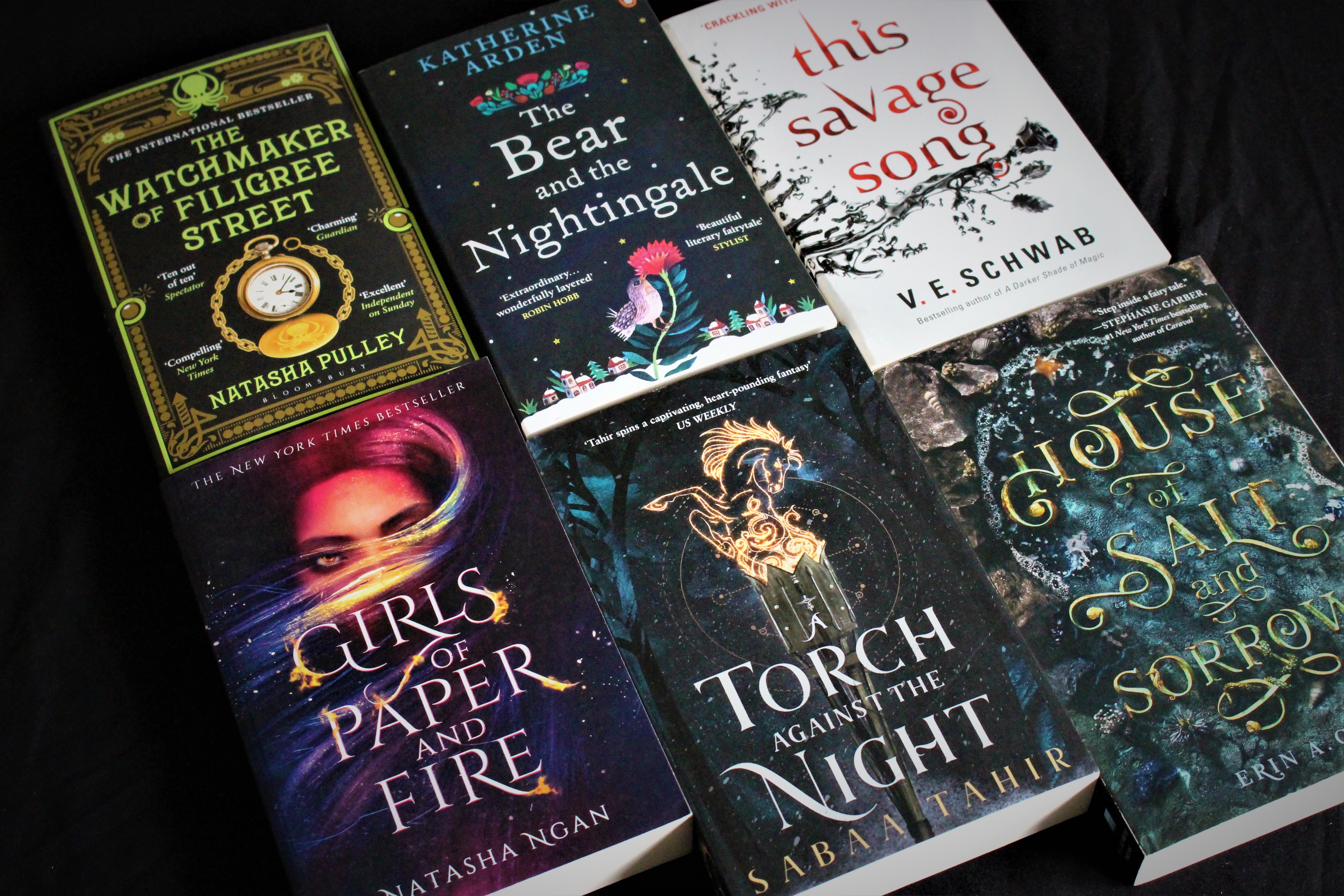 Guess what's more wonderful than getting a package full of books?
Getting a HUGE package full of books.
But my order actually got split into three, so I just got one big package, one medium-sized package and a small package… But it still adds up to 22 books, so it's a good haul. I know it's July, but this is a post about June's book haul, since it took some time for all the shipments to arrive.
Aren't they pretty?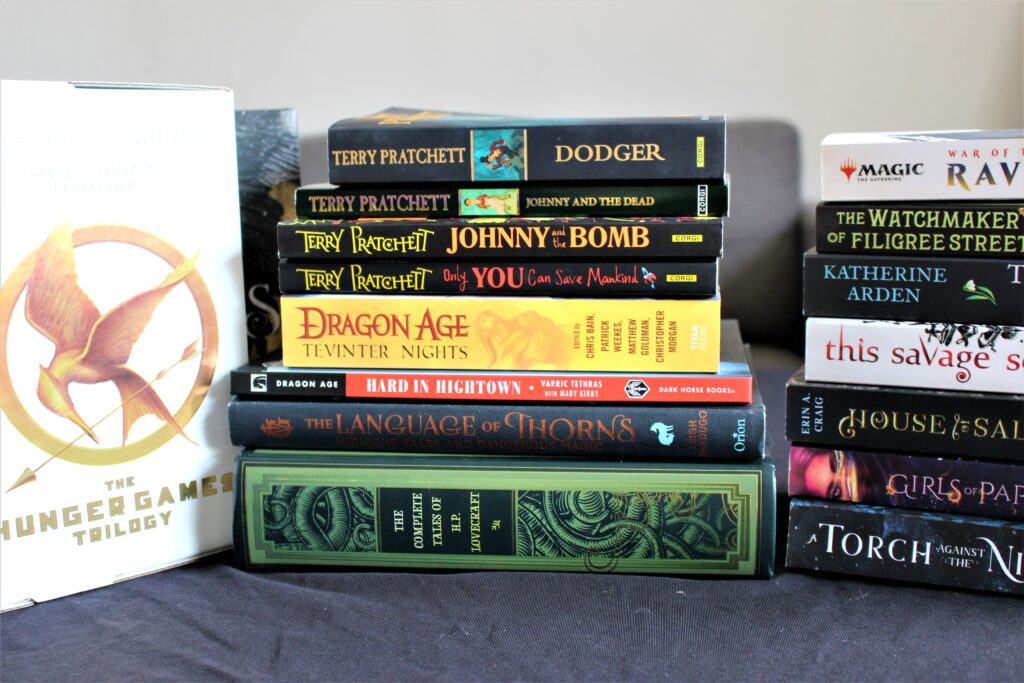 The books I got were:
The Watchmaker of Filigree Street by Natasha Pulley
Six of Crows Boxed Set by Leigh Bardugo (Six of Crows and Crooked Kingdom)
The Language of Thorns by Leigh Bardugo
The Hunger Games 10th Anniversary Boxset by Suzanne Collins (The Hunger Games, Catching Fire and Mockingjay)
The Complete Tales of H.P. Lovecraft by H. P. Lovecraft (duh)
Dragon Age: Tevinter Nights by Sylvia Feketekuty
Dragon Age: Hard In Hightown by Varric Tethras (AKA Mary Kirby)
Magic: The Gathering – Ravnica by Greg Weisman
Only You Can Save Mankind by Terry Pratchett
Johnny and the Dead by Terry Pratchett
Johnny and the Bomb by Terry Pratchett
Dodger by Terry Pratchett
This Savage Song by V. E. Schwab
A Torch Against the Night by Sabaa Tahir
The Bear and The Nightingale by Katherine Arden
Girls of Paper and Fire by Natasha Ngan
House of Salt and Sorrows by Erin A. Craig
European Travel for the Monstrous Gentlewoman by Theodora Goss
The Sinister Mystery of the Mesmerizing Girl by Theodora Goss
I had to rearrange all my bookshelves to fit them in (the Lovecraft collection was far too tall for my shelves, but far too gorgeous to put in horizontally), but it was so worth it. Some of these books are just so darn beautiful, and the six I've already read were great.
The Complete Tales of H. P. Lovecraft
I have long wanted to read some Lovecraft and when I came across this absolutely amazing special edition of his completed works, I knew I had to own it. It's hardback, taller than any of my other books, and more than 1000 pages, so I will probably injure my wrists reading it, but it's sooo pretty…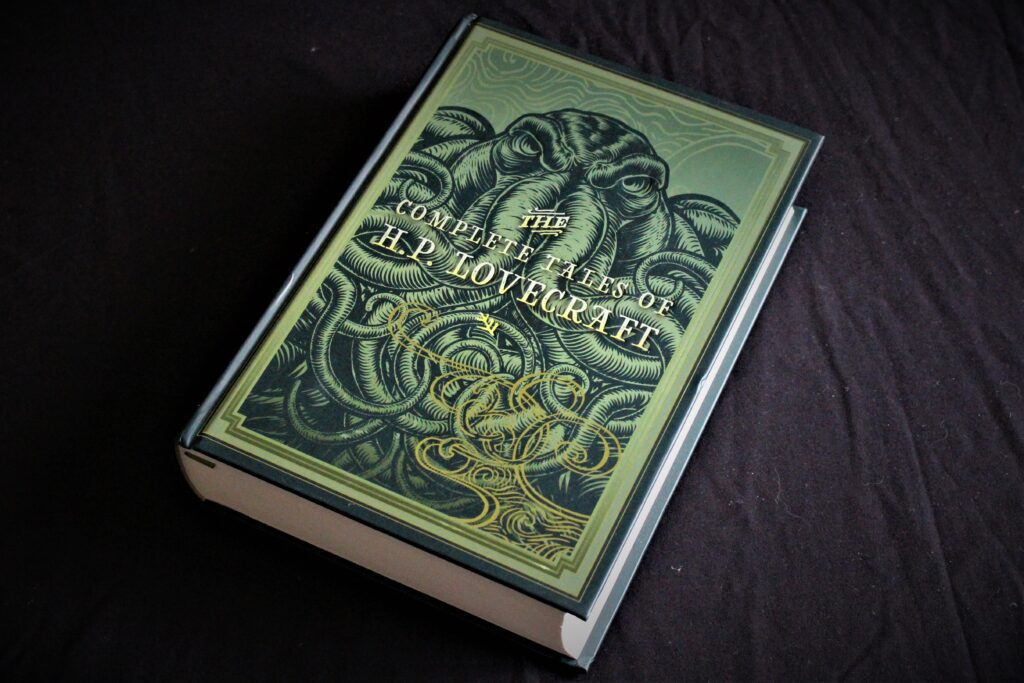 Six of Crows, Crooked Kingdom and The Language of Thorns
I have quickly grown to love Leigh Bardugo's Grishaverse, so of course I had to get the books I was missing.
Six of Crows and Crooked Kingdom are both pretty dull-looking next to the shiny copies of the rest of the series, but The Language of Thorns is so gorgeous, both inside and out. Not only is the hardback incredibly beautiful, each page inside is illustrated as well!
The only problem I have with the Grishaverse is that NONE of the subseries are the same height. It's messing with my bookshelf OCD that I have one series with books of four different heights…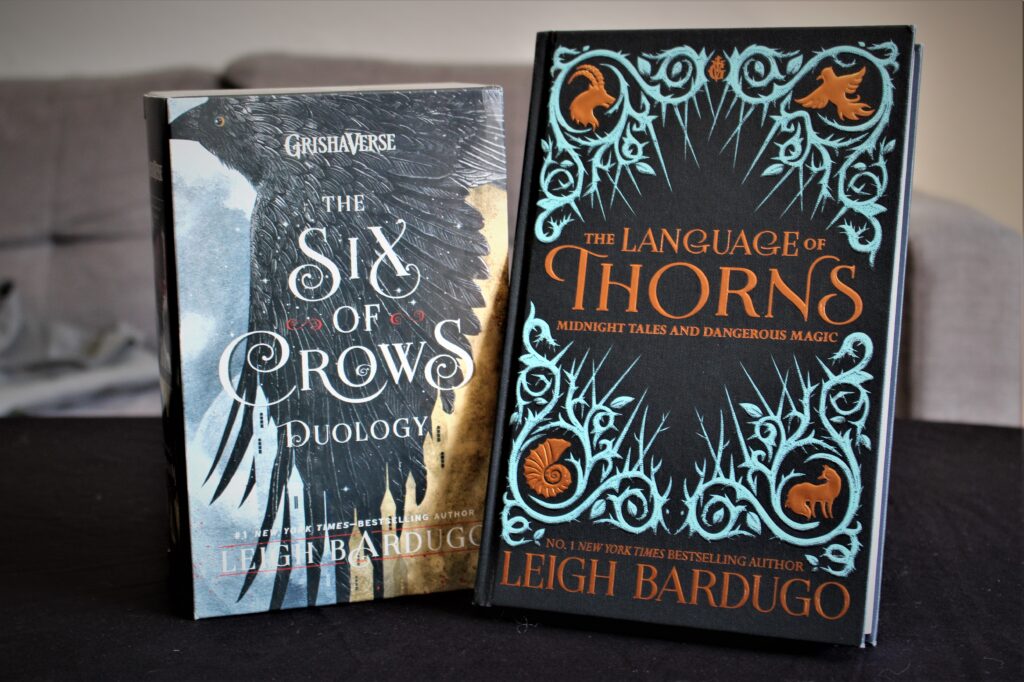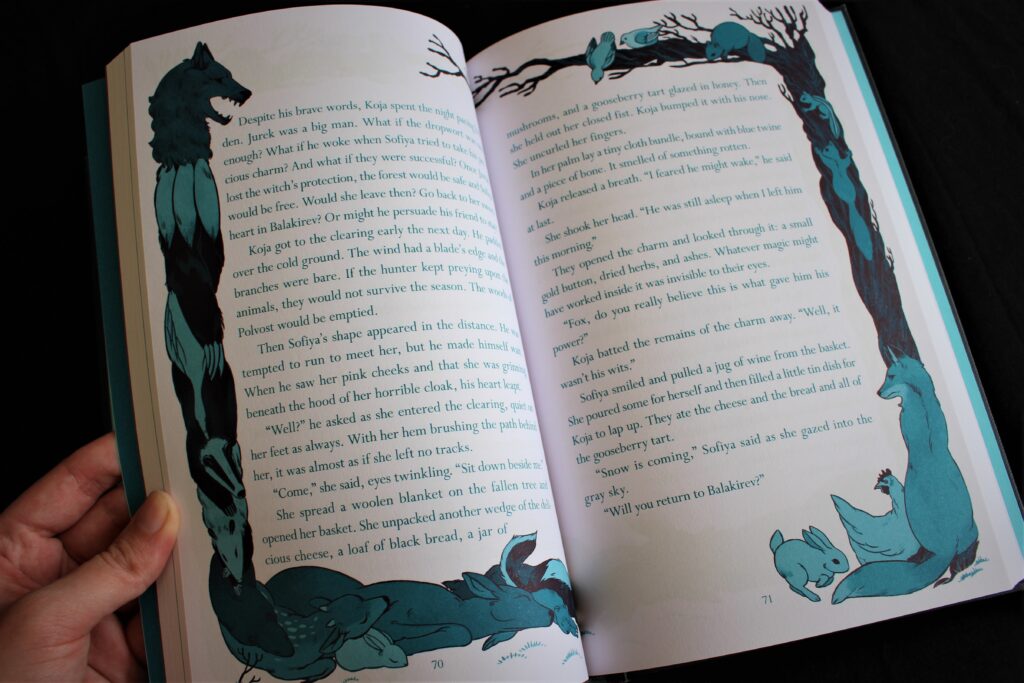 ---
The Hunger Games 10th Anniversary Boxset
I read the first Hunger Games book years ago, but when I wanted to give the series another try, I couldn't find my copy anywhere. This gave me a great excuse to buy a complete boxset – with The Hunger Games, Catching Fire and Mockingjay – and the 10th Anniversary edition is really pretty. It's all shiny and impossible to photograph.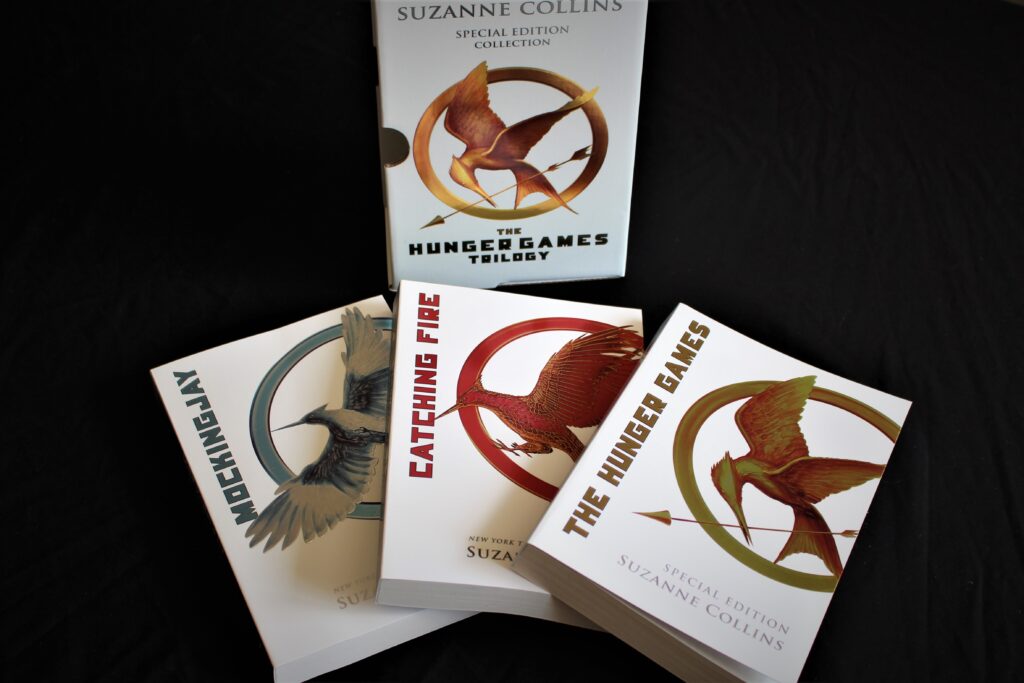 Pratchett YA
I guess the only thing surprising about this section is that there's still Pratchett books I haven't bought yet…
These are some of Terry Pratchett's books for younger readers, Dodger and the Johnny Maxwell trilogy. Johnny and the Bomb was actually the very first Pratchett book I ever read, way back in middle school, and one of the first books I read in English, so I'm excited about getting to read the entire series.
However, a problem with availability means I didn't get all the books in the same edition, so I'm going to be grumbling about that for a while…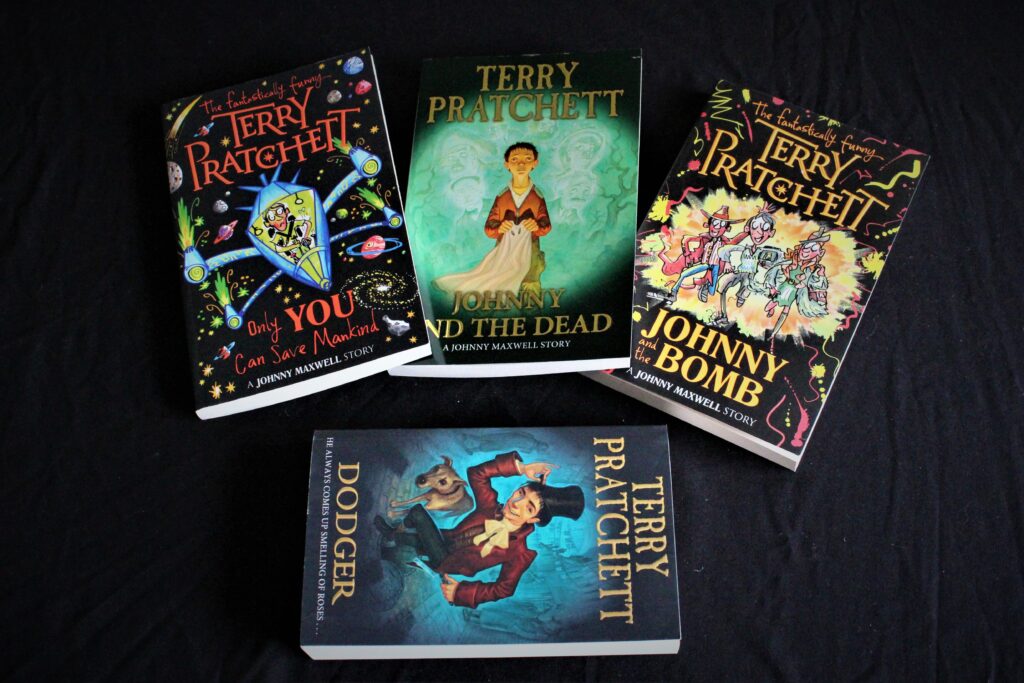 The Extraordinary Adventures of the Athena Club
I read the first book of this series without knowing it was part of a series, so by the end I hadn't sated my curiosity about the mysterious plot the characters were caught up in. Nothing for it, except to buy the next books!
Dragon Age and Magic: The Gathering
My obsession with Dragon Age started years ago, so of course I needed some tie-in novels while waiting for the fourth game. And I recently became part of a Ravnica-themed Dungeons & Dragons party, but I have never played Magic: The Gathering, so I need to study some lore, so I know who all the people trying to kill me are…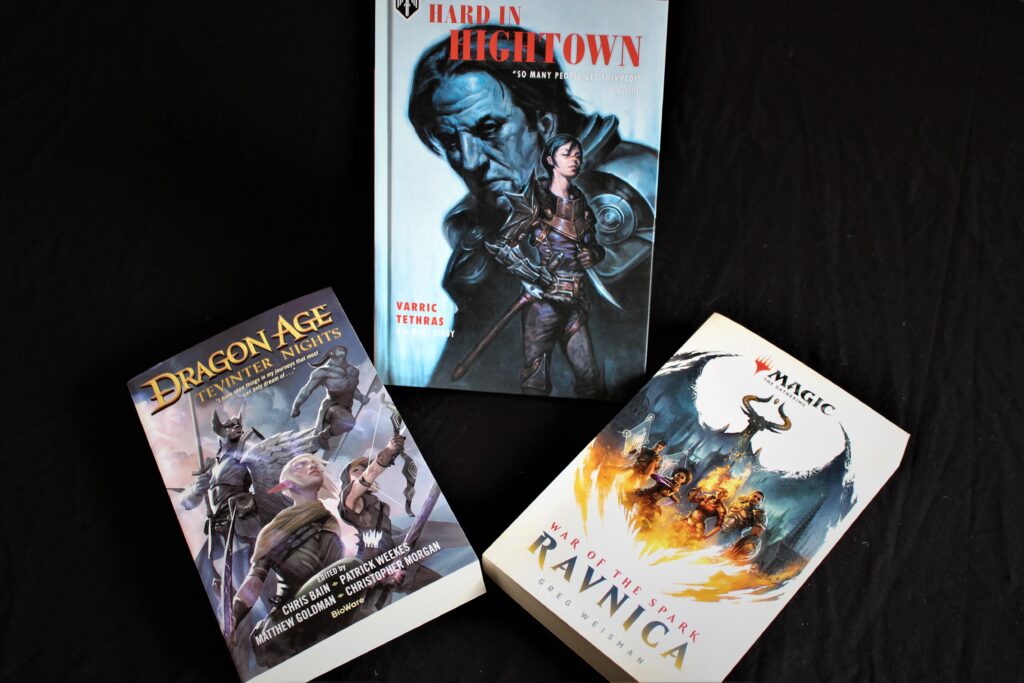 All the Rest
These are (almost) all new authors to me that I'm excited to read!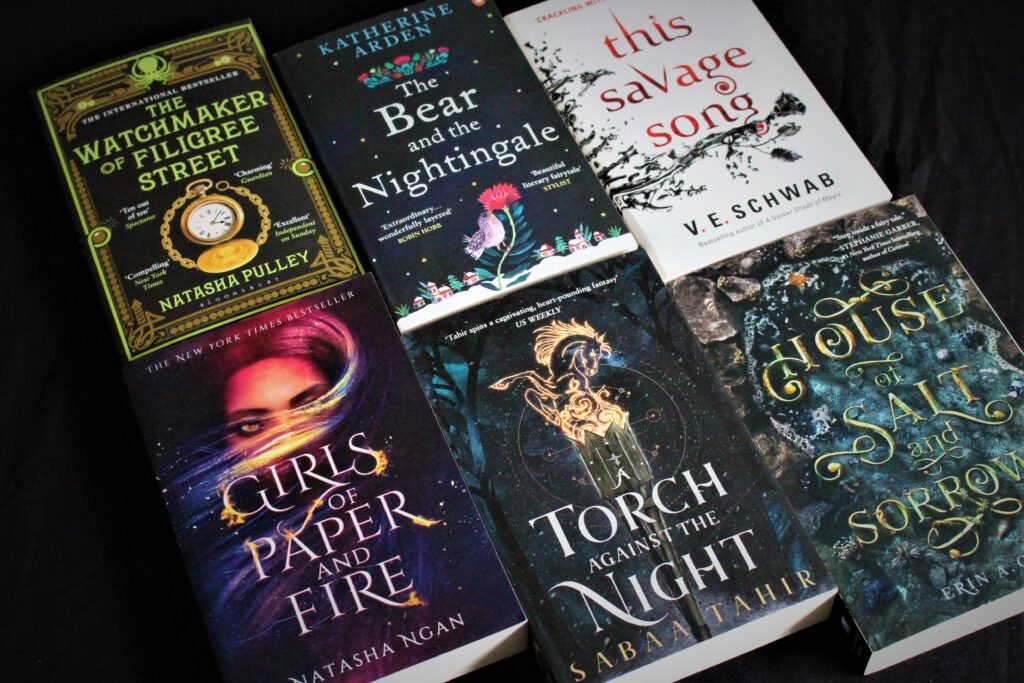 Have you read any of these? If so, let me know in the comments if I need to move some of them further up my TBR list!