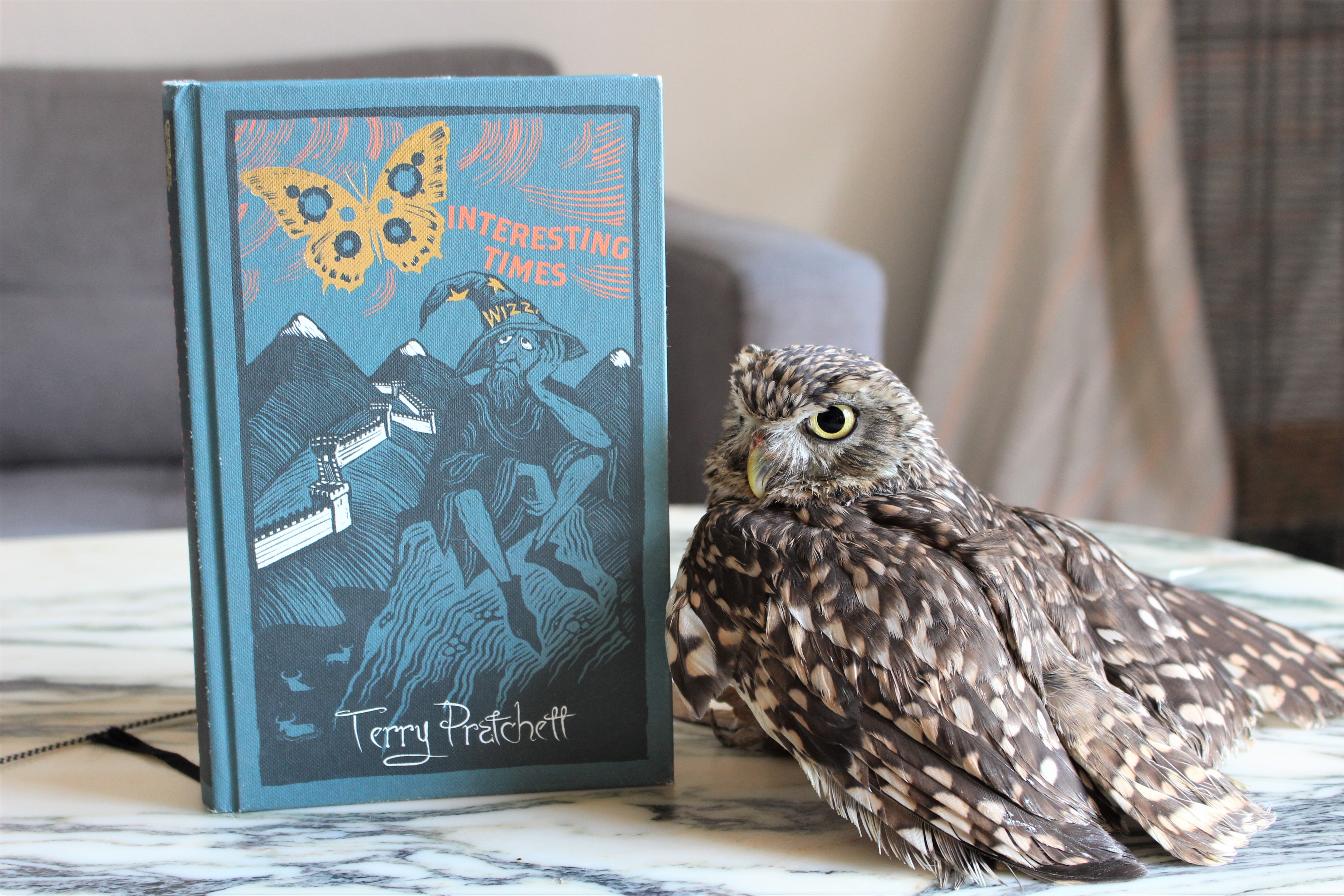 We live in interesting times, so I believe the timing is right for Interesting Times by Terry Pratchett.
This is the first Bookish Owl photo taken after Artemis's operation, but I think he's shy, because he won't be showing off his new flamingo stance until the next one. But I can inform you that being one-legged absolutely didn't stop him from knocking books over and making a run for it while we were taking pictures.
This is yet another Discworld reread, but it will be the last for a while… mostly because I'm running out of books to reread and might soon have to start on a round of re-rereading.
The very best thing about 'Interesting Times' is not Rincewind and his shenanigans, but Cohen the Barbarian and his 'Silver Horde'. Reading about a group of old men wreaking havoc and creating terror wherever they go, all the while complaining about joint pains, gives me hope for my own retirement.
Can you guys recommend me any other fantasy books with badass old people? I feel like that's what I need more of in my life right now.
---
Interesting Times
by Terry Pratchett
'A foot on the neck is nine points of the law'
There are many who say that the art of diplomacy is an intricate and complex dance. There are others who maintain that it's merely a matter of who carries the biggest stick. The oldest and most inscrutable (not to mention heavily fortified) empire on the Discworld is in turmoil, brought about by the revolutionary treatise What I did on My Holidays. Workers are uniting, with nothing to lose but their water buffaloes; warlords are struggling for power – and what the nation wants, to avoid terrible doom for everyone, is a wizard. Rincewind is not the Disc's premier wizard – in fact, he can't even spell 'wizard' – but no-one specified whether competence was an issue. And they do have a very big stick…
Mighty Battles! Revolution! Death! War! (And his sons Terror and Panic and daughter Clancy).
---